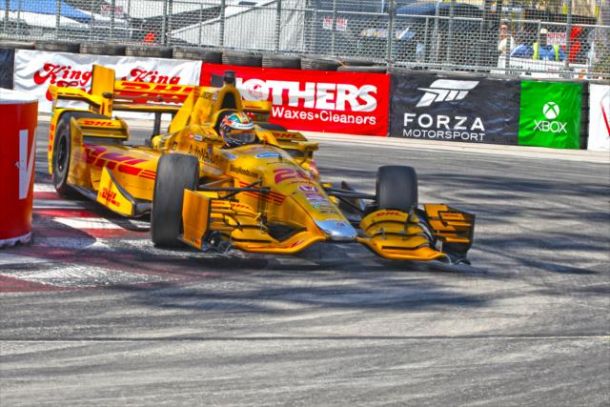 Now that 80 laps have been completed and Scott Dixon has won his first ever Long Beach Grand Prix, it's time for me to sign off. The recap of the race will be up shortly. Thanks for following!
CHECKERS: Scott Dixon wins for the first time of his career at Long Beach! Castroneves crosses the line second, Montoya third, Pagenaud fourth, Kanaan fifth. Bourdais finished sixth right behind them.
FINAL LAP: The leaders take the white flag. No more push-to-passes remain between them.
2 laps to go: Sebastien Bourdais is now right behind Kanaan who continues to pressure Pagenaud who is right behind third place of Kanaan.
3 laps to go: Pagenaud is sandwiched between Montoya in front of him and Kanaan just behind him.
4 laps to go: The battle between the two Penske cars of Pagenaud and Montoya rages on as Kanaan continues to still watch from just behind them. Kanaan still has four push-to-passes remaining; this could work greatly to his benefit.
5 laps to go: Pagenaud wants by Montoya but is yet to get it done. Kanaan is catching up to the both of them. Dixon leads from Castroneves and these three by over three and a half seconds.
8 laps to go: Simon Pagenaud is putting incredible pressure on Juan Pablo Montoya. Tony Kanaan has been going blisteringly fast as well and runs just behind these two.
9 laps to go: The top five remain unchanged; it's not looking like Castroneves will be able to win from the pole as Dixon's lead is large.
11 laps to go: Carlos Munoz still hangs on with Saavedra and Rahal pressuring him from behind.
12 laps to go: Dixon, Castroneves, Montoya are still the top three.
16 laps to go: Munoz, Saavedra, and Rahal battle for ninth position. Looking to get around Munoz, Saavedra is running his first of a few races for Ganassi, looking to prove himself worthy of the No. 8 car.
17 laps to go: Will Power is a lap down in P20.
18 laps to go: Castroneves, Montoya, and Pagenaud run behind Dixon but Pagenaud is a little ways back from the two in second and third. Montoya has the pace to get by Castroneves for second.
19 laps to go: Scott Dixon is still leading and his first ever win at Long Beach just might be in his future.
Lap 57 of 80: Bourdais is being pressured by Newgarden whose team is telling him to be patient but get by him.
Lap 56 of 80: A great stop for Castroneves but as he came out cold tires he came close to the wall in turn one as Dixon came on his inside. Final pit stops for Bourdais and Kanaan.
Lap 55 of 80: Castroneves and Pagenaud both in now. Bourdais will assume the lead. It was a terrific stop for Helio! He and Pagenaud back out.
Lap 55 of 80: All of the leaders are in! This should be their final stop.
Lap 50 of 80: Former winner at Long Beach Ryan Hunter-Reay runs P11. Some strategical moves are going to begin to be made as we are 30 laps from the finish.
Lap 44 of 80: The top three continue to be Scott Dixon, Helio Castroneves, and Simon Pagenaud.
Lap 43 of 80: Last weekend's winner James Hinchcliffe runs P12. Scott Dixon is leading for the fourth time in his career at Long Beach.
Lap 41 of 80: The race has reached the halfway point. Scott Dixon continues to lead the three Penske cars of Castroneves, Pagenaud, and Montoya.
Lap 37 of 80: Charlie Kimball comes in and the crew installs four red Firestone alternate tires.
Lap 36 of 80: Jack Hawksworth rejoined the race after pitting from the lead P15.
Lap 33 of 80: Hawksworth was leading but has just come in as he was not on the strategy of the leaders. Scott Dixon reassumes the lead.
Lap 30 of 80: The leaders come in. Dixon leads now as Castroneves comes in - and nearly makes contact with Tony Kanaan as he was attempting to leave his pit box.
Lap 29 of 80: Montoya in; off come the alternate Firestone red tires and on go the primary blacks. He stays in for an extra second to be sure that the car is full of fuel.
Lap 28 of 80: Carlos Munoz, James Hinchcliffe and Josef Newgarden as well as Marco Andretti come in.
Lap 25 of 80: Castroneves has come up to his teammate Will Power; if he gets by Power, the reigning series champion will be two laps down.
Lap 24 of 80: Helio Castroneves remains at the front of this race. Dixon runs second but not nearly as close to the Penske driver as he was on the restart.
Lap 22 of 80: Will Power in and back out. He continues to run still down a lap in P21.
Lap 18 of 80: Castroneves has led every lap so far. The only driver to lead every lap at Long Beach and win was.... Helio Castroneves 15 years ago. Roger Penske is having him save fuel, but he still comfortably leads at the front. Montoya also saving fuel. Dixon, running second, seems to naturally save fuel; he's very talented in this regard.
Lap 15 of 80: The current top five feature three of the four Penske cars (the fourth is Power who is a lap down): 1. Castroneves 2. Dixon 3. Montoya 4. Pagenaud 5. Newgarden
Lap 14 of 80: Charlie Kimball has a problem; he came in for a new wing after a part of it flew off in the middle of the straightaway. Castroneves continues to lead his first laps at Long Beach since 2009.
Lap 12 of 80: Will Power runs P22 and is a lap down.
Lap 10 of 80: Back to GREEN! Scott Dixon is immediately behind Castroneves as the field enters turn one on the restart.
Lap 8 of 80: Will Power is in and out of pit lane. He had problems during the stack up entering pit lane.
Lap 8 of 80: Filippi's CFH Racing crew is running down the pit lane to go rescue him and the No. 20 CFH Racing car.
Lap 7 of 80: Traffic jam entering pit lane. Filippi seems to have stalled at the beginning of pit lane.
Lap 5 of 80: Gabby Chaves is missing a large amount of his front wing after contact with Jack Hawksworth. Chaves will need to bring the BHA No. 98 Honda in for a new front wing.
Lap 4 of 80: Castroneves leads Scott Dixon in second - FULL COURSE YELLOW for a piece of debris in turn nine.
Lap 2 of 80: Power started P18; he's got a lot of work cut out for him today. The field is still close and is single file through the famed Long Beach circuit.
Lap 1 of 80: Castroneves gets a great start.
4:40 pm ET: GREEN flag on the streets of Long Beach!
4:34 pm ET: The cars are out behind the pace car for a sighting lap. The green flag is moments away!
4:31 pm ET: It's time for the third race of the 2015 Verizon IndyCar Series season to get underway on the famed Long Beach circuit. Thanks for following along here; I'm beyond excited to be bringing you live coverage of today's race!
4:25 pm ET: It's about time for the green flag! The National Anthem has been sung and the engines are about to be fired!
4:10 pm ET: Pre-race festivities are continuing under the bright California sun and blue sky. It's perfect weather for a Verizon IndyCar Series race!
4:06 pm ET: It's nearly time! All cars have been called to the grid and we are under 30 minutes from the green flag on the streets of Long Beach.
2:56 pm ET: Just over an hour until live coverage of the Toyota Grand Prix of Long Beach begins right here. Be sure to return! Follow the VAVEL USA Racing Twitter account for more: @RacingOnVAVEL
The morning warm-up is underway on the streets of Long Beach!
Below are the top headlines entering today's race. Above this point, until the green flag nears, I'll be adding more news and notes as well as covering the final practice/warm-up with live updates here!
After struggling immensely throughout the practice and qualifying sessions leading up to the race last weekend at the inaugural Indy Grand Prix of Louisiana, Helio Castroneves made his presence known in the first practice sessions of this weekend in Long Beach and was able to earn pole position for today's race. Castroneves will start P1 on the streets of Long Beach today, and behind him will be teammate and winner of the St. Petersburg opener Juan Pablo Montoya followed by Scott Dixon who will start third. Castroneves secured pole position for today's race with a lap of 1:06.6294. These top three starters drive Chevy-powered cars; Ryan Hunter-Reay is the first Honda as he will start P4. Hunter-Reay is sandwiched between the top three Hondas and then three more Chevrolets of Simon Pagenaud, Josef Newgarden, and Tony Kanaan in P5, P6, and P7 on the starting grid. Reigning series champion Will Power will be starting all the way down in P18 after a yellow flag came out at an unfortunate time for him in qualifying.
Sebastian Saavedra, making his first start of 2015 in the No. 8 Ganassi car that Sage Karam has driven for the two opening races of this year, will start P11. Conor Daly, making his second IndyCar start ever after the 2013 Indianapolis 500, will start P21. Last weekend's winner James Hinchcliffe will start the race from 13th.
Conor Daly became the sudden replacement of Rocky Moran Jr. after a crash in practice on Friday that saw him sustain a broken thumb. Moran was actually the replacement of Carlos Huertas at Dale Coyne Racing for the weekend, but he is now sidelined and will not step back into the car at Long Beach this weekend. With it being such a sudden decision, Daly drove all of Saturday – but that's it. He qualified worse than P20 for today's race after only driving in the third practice session of the weekend and in qualifying. It will be his second ever Verizon IndyCar Series start, with his only other being the 2013 Indianapolis 500. He is not entirely new to Long Beach, though; he won the Indy Lights race at the famed Long Beach street circuit in 2011. It will be interesting to see how he performs in his first ever non-oval (and non-Indy 500) start in the Verizon IndyCar Series, and it is most definitely something to watch for. In the minds of many fans, Daly should be driving an Indy car full time, and this could be a great step in the right direction for him in regards to an IndyCar career.
A handful of penalties were issued by INDYCAR following the race at NOLA Motorsports Park last weekend. Ryan Hunter-Reay received the worst of all due to his being involved with the incident that took place during the closing minutes of the race at NOLA that saw Simon Pagenaud, Sebastien Bourdais, and Ryan Hunter-Reay himself all be taken out of the race. Read the full article about all of the points deductions and monetary fines that were issued entering today's race in Long Beach by clicking here.
INDYCAR ordered the "rabbit ears" of the front wing on the Chevrolet aero kit to either be removed or leashed on. This follows the lawsuit that is the result of a woman being struck by an aero kit component at the St. Petersburg season opener. Not much has been made of the removal of the element from the front wing, so I wonder how it is making an impact on the handling of the Chevy-powered cars.
From now until closer to 4 pm ET when the racing is about to get underway, you will find the top headlines entering today's race - beginning immediately above.
Welcome to live coverage of the Toyota Grand Prix of Long Beach! After the season opening round on the streets of St. Petersburg and last Sunday's round at NOLA Motorsports Park, the third round of this 2015 season is well underway. The green flag will fly over the streets of Long Beach at just after 4:30 pm ET for the second city/street circuit race of the year thus far. From now until the race, you will find updates above here periodically. I'm excited to be bringing you live coverage of another IndyCar race here on VAVEL!