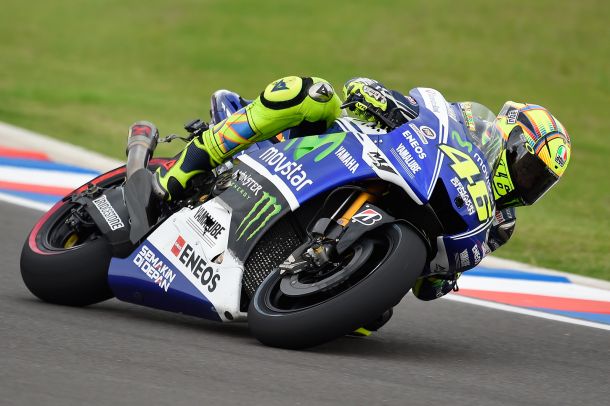 The decision was made by Marquez and his Repsol Honda crew on the grid to fit the hard compound tire rather than the extra-hard option - a tire that Bridgestone designed specifically and only for the new Argentina track. It was a questionable decision that meant Rossi and others, on the extra-hard tire, would most likely have an advantage as the 25-lap race on the nearly 3-mile long track winded down.
This theory proved to be true as Marquez began to lose time as the race reached the 8-laps-to-go marker.
Valentino Rossi, who started in eighth on the grid, was able to knock 0.3 seconds off the lead of Marquez lap after lap for the final 10 laps of the race. His tires were clearly in better condition than those of Marquez, which was to be expected; the suspected fate of Marquez was coming true with only three laps remaining in the race. Rossi had caught him and finally dropped his lead that was originally over four seconds down to under one.
It wasn't until turn one just after Marquez and Rossi got the white flag that the Italian had the first go at the young Spaniard. He made the pass for the lead, becoming only the third rider to lead the race after Aleix Espargaro of Suzuki did briefly on the first lap - but Marquez got him right back in the very same corner.
Remaining very close to Marquez, Rossi had another chance in another corner on the same lap, and that's where it suddenly ended for Marquez after dominating the entire race.
Marquez was passed on the inside by Rossi and, when trying to get back by on the exit of the corner, made contact with Rossi's rear tire and found himself on the ground, sliding to the next corner.
The commanding performance meant nothing as the Spaniard jumped up and began sprinting to his downed Repsol Honda.
Valentino Rossi completed the final lap and took his second win in the opening three races of the 2015 season.
The decision Marquez made to use the hard tire rather than the extra-hard compound, the tire that was designed to go the distance of the race, proved to work in Rossi's favor more than the reigning World Champion's.
The next race for the MotoGP World Championship will be at Circuito de Jerez for the fourth round on the opening three days of May.