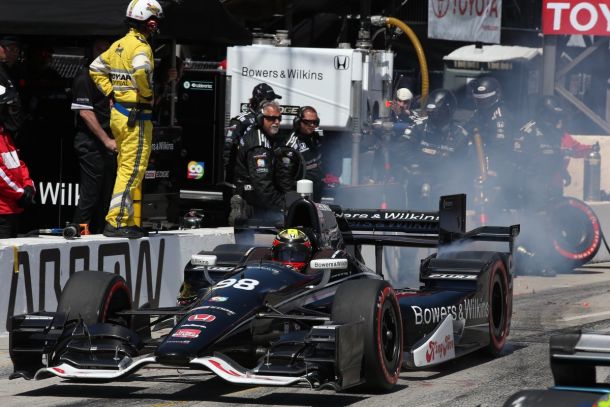 Gabby Chaves comes to the Verizon IndyCar series in 2015 as the reigning Indy Lights Presented by Cooper Tires champion and was the runner-up in 2013. Chaves enjoyed much success during his two seasons in IndyCar's junior series, amassing 25 top-tens, 22 top-fives, 21 podiums, three poles, and five wins in 26 starts. Born in Bogotá, Colombia and residing in Indianapolis, Chaves has raced under both the Colombian and American flags and continues to represent Colombia in his IndyCar career. Chaves' path to the top level of American open-wheel racing has been more direct than that of some of his contemporaries, following the route of another Indy Lights competitor, Jack Hawksworth. Hawksworth moved directly from a fourth place finish in the 2013 Firestone Indy Lights championship to a full time campaign with Bryan Herta Autosport in 2014. Chaves finds himself with the same team in 2015 while Hawksworth has moved on to the No. 41 of A.J. Foyt Racing. Prior to two seasons in Indy Lights, Chaves competed in the Star Mazda (now Pro Mazda) championship in 2012, finishing second with ten podiums and two wins. He also raced in the GP3 Series in 2011 where he earned five top-tens in 16 starts.
nt">
​​
Chaves, 21, was a dominant force in both of his Indy Lights seasons in 2013 and 2014. Last year saw him earn four of his five series wins en route to the first championship of his professional career. Chaves showed remarkable consistency in his 2014 campaign (see the graph below), only failing to earn a top-ten finish once in the first race on the reconfigured Indianapolis Motor Speedway road course. He demonstrated the ability to stay up front in all the various disciplines, taking wins on a street circuit (Long Beach), natural terrain road course (Barber Motorsports Park), and ovals (Indianapolis Motor Speedway and Pocono Raceway).
​​
There are two advantages Chaves has heading into the 2015 Verizon IndyCar Series season as the driver of the No. 98. First, he is familiar with nearly all of the tracks he will tackle this year having come up through the previous two rungs of the Mazda Road to Indy ladder. Second, he is with a team - Bryan Herta Autosport - that has some experience with grooming a former Indy Lights driver to be successful in the top level of the sport. There are some disadvantages that Chaves must overcome as well. The nature of a single-car team like BHA means that there are no teammates to share data with; he and his engineers are truly on their own when it comes to development and setup. For this reason, single-car teams have become a rarity in the series with only BHA and Rahal Letterman Lanigan fielding full time solo entries. It also remains to be seen whether the Honda engine and aero kit package can be competitive with Chevrolet over the course of a season. These factors may mean Chaves isn't in line for race wins or even podium finishes, yet out of the current crop of rookies, I feel he has the strongest shot at coming away with Sunoco Rookie of the Year honors following the finale at Sonoma Raceway in August. Consistency and utilizing his experience will be key for Chaves in 2015. If he can master these two areas, I expect a solid year for him and a bright future in the Verizon IndyCar Series.
Follow the VAVEL USA Racing Twitter account: @RacingOnVAVEL