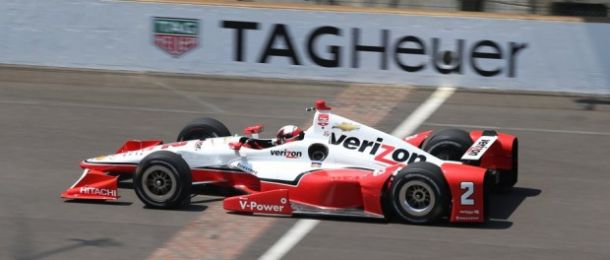 INDIANAPOLIS (May 3, 2015) - Opening Day at the Indianapolis Motor Speedway was highlighted by a significant jump in speed in the on-track debut of superspeedway aero kits from Chevrolet and Honda. Twenty-one drivers surpassed last year's fastest lap of Opening Day as drivers turned more than 1,800 laps in preparation for this month's 99th Running of the Indianapolis 500 Mile Race.

"It's faster, for sure, no doubt about it. Speeds are going to be up," 2014 Indianapolis 500 winner Ryan Hunter-Reay said. "The difficult part for teams and drivers is balancing the clouded read you get from a big tow and new tires versus getting a read on the new car."

Juan Pablo Montoya, who 15 years ago won the Indy 500, recorded the fastest lap at 226.772 mph (39.6874 seconds) on the 2.5-mile oval as 28 driver/car combinations became acclimated to the aero kits and developed a baseline for practice that begins May 11. The fast lap on Opening Day last year was set by Will Power at 223.057 mph.

"(Having the fastest lap) is good for Verizon and for Chevy and for everybody that is paying attention. But I think the time sheet, as always, is irrelevant until you get to the race or until you get to qualifying," Montoya said.

Montoya, the Verizon IndyCar Series championship points leader in the No. 2 Verizon Team Penske Chevrolet, was 0.0533 of a second faster than teammate and three-time Indianapolis 500 winner Helio Castroneves. Marco Andretti was third on the speed chart at 226.268 mph and the fastest of the Honda contingent. Scott Dixon, driving a Target Chip Ganassi Racing Chevrolet, was fourth at 225.881 mph and Simon Pagenaud of Team Penske was fifth at 225.641 mph.

Takuma Sato (225.571) was sixth in an AJ Foyt Racing Honda, followed by Simona de Silvestro (225.317) in an Andretti Autosport Honda and two-time defending Indianapolis 500 Verizon P1 Award winner Ed Carpenter (225.257) in a CFH Racing Chevrolet. Hunter-Reay was ninth in an Andretti Autosport Honda (225.208) and Sage Karam, who made his Verizon IndyCar Series debut in the 2014 Indy 500, was 10th (224.931) in a Chip Ganassi Racing Teams Chevrolet.

A rookie orientation test and refresher test for drivers who had not competed in a Verizon IndyCar Series oval race since last May also was part of the on-track activity.

Gabby Chaves of Bryan Herta Autosport completed the three phases of the rookie program that examines car control, placements and a consistent driving pattern at various speed parameters. Stefano Coletti was out of the country and will run through the rookie phases May 11 in a KV Racing Technology Chevrolet.

Overall, 1,845 laps were turned without incident.

A balance between aerodynamic drag reduction and maintaining sufficient downforce is the hallmark of both manufacturer superspeedway aerodynamic bodywork kits. Different approaches were taken by manufacturers to achieve optimal performance in conjunction with their 2.2-liter, twin-turbocharged V-6 engines, and it is reflected in their base platforms.

Both manufacturer packages include a variety of individual aerodynamic components fitted to the Dallara rolling chassis that make them markedly different from the road/street and short oval kit that has been utilized in the first four races of the Verizon IndyCar Series season. Additionally, multiple options are available to teams to explore during practice for qualifications May 16-17 and the May 24 race.

"We have a laundry list of changes to try and luckily we have time to work with it," Andretti said of the aero options.

Verizon IndyCar Series teams return to Indianapolis Motor Speedway on May 7 for a Promoter Test on the 2.439-mile, 14-turn road course in preparation for the Angie's List Grand Prix of Indianapolis on May 9. Pagenaud was the winner of the inaugural road race in 2014 while with Schmidt Peterson Motorsports.