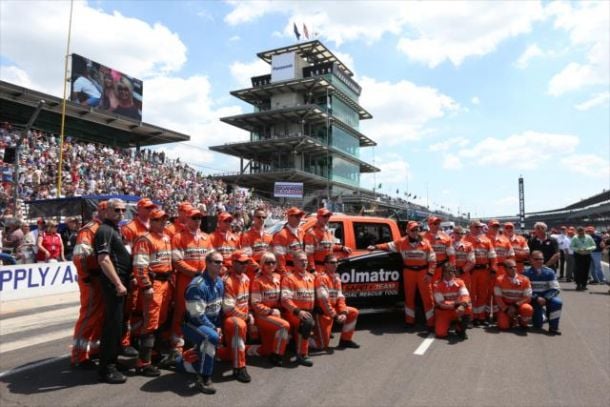 "Greetings from the fourth floor of Methodist Hospital," James Hinchcliffe thrilled the crowd at the Indy 500 Awards Banquet with his audio tribute to the team which saved his life.
Hinchcliffe spun coming out of Turn 3 during post-qualification practice last week. He smashed into the SAFER barrier, and a suspension arm pierced the cockpit of his No. Arrow/Lucas Oil Schmidt Peterson Motorsports car, then entered his right leg, went through his left thigh and into his pelvis. The quick response of IndyCar's Holmatro Safety Team likely saved the Canadian's life, as the crew was able to stop the massive bleeding and cut him out of the car. Hinchcliffe was transported to IU Methodist Hospital and underwent emergency surgery; he was released from the hospital yesterday.
The members of the Homaltro Safety Team were honored at the Indianapolis 500 Awards Banquet and given a standing ovation.
"While I do sit with a long road to recovery in front of me, it's very possible my road would have come to an end last week were it not for the speedy response and heads up action taken by our incredible safety team," said Hinchcliffe. "It's incredible to me that for as dangerous a sport as we participate in, we can so often confidently strap into our cars, pushing the danger to the back of our minds, and that it largely due to the fact that we know just how good hands we are in."
IndyCar has long been considered the leader in motorsports safety. The Holmatro team consists of approximately 30 safety personnel with a minimum of 18 attending each event: a trauma physician, an orthopedic physician, two paramedics, 12 firefighters/EMTs, and two registered nurses. The team travels with four safety vehicles and brings the most sophisticated safety equipment and racing technologies to each race. The team is supplemented with safety personnel at each venue and works in conjuction with firefighters, ambulance and tow-truck drivers at each race. An eight hour instructional course is conducted at each new venue and update sessions are held at each track before each daily session. IndyCar is one of the few racing series that has a dedicated, specifically trained safety team which travels to all events.
Each safety truck carries four responders, each with their own specific role: the driver/incident commander who communicates with Race Control, a paramedic in the passenger seat and two firefighters in the rear, one to put out flames and one to contain fluid spills. There are also four cameras on each truck which can be monitored by Race Control, hyrdraulic rescue tools, a 30 gallon water tank, and anything else needed to clean up after a crash.
Holmatro Safety Team member Mike Yates admits that half their job is acting as "track janitor."
There are also at least two team members who are stationed on pit road, to assist with any pit lane accidents or fires. At this year's 500, there were several pit crew members who were knocked down on pit lane, and the Holmatro Safety Team quickly responded.
The month of May was busy for the Homaltro Safety Team. In addition to Hinchcliffe's incident, three cars went airborne during practice. Helio Castroneves had a massive vertical flip in his Team Penske Chevrolet on the same day that Pippa Mann slid into the pit lane attenuator, sending her spinning rapidly into the wall on the outside of the track. Less than 24 hours later, Josef Newgarden had a similar crash to Castroneves, and, during the final practice before qualifying, another CFH Racing car, this time of Ed Carpenter, went airborne. During the race there were several incidents, with the most serious being a multi-car crash involving Jack Hawksworth, Stefano Coletti and Sebastian Saavedra. Aside from a foot injury suffered by Saavedra, no other drivers were hurt during the race.
"To Mike Yates and the entire Homaltro Safety Crew - from myself and all of the Verizon IndyCar Series drivers - thank you so much for everything you have done and will continue to do to keep us safe at the track. It means the world to us. Thank you and I will see you at the track soon," said James Hinchcliffe - virtually - at the banquet.
Written on the back of the hats of the Holmatro Safety Team is "When the Race is for Life," serving as a reminder of how important their work is to the teams and drivers of the Verizon IndyCar Series.