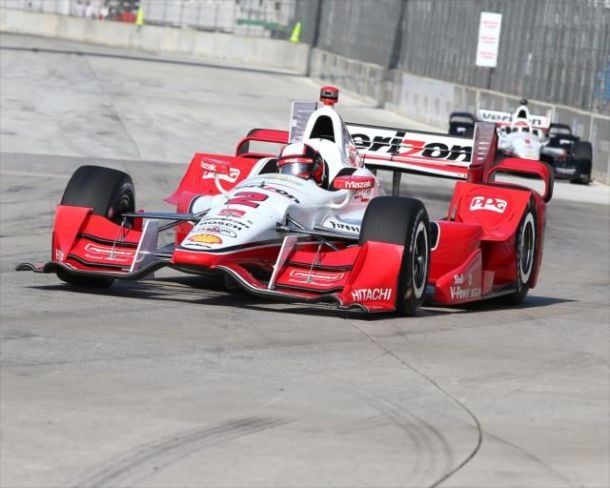 Qualifying for Race 2 of the Chevrolet Dual in Detroit was set to get underway just after 11 am ET, but Mother Nature had other ideas once again this weekend. After the Pirelli World Challenge Race 2 was canceled, qualifying was moved earlier and would see two groups hit the track for 20 minutes each with five minutes of gauranteed green flag time for each.
Group 1 took to the track with a consistent but relatively light rain falling, and the entirety of the 20-minute session was run with only one accident; James Jakes got on the power too hard on the exit of a corner, began heading straight for a concrete wall, and made contact with both the front and rear of the left side of the car. The session was red flagged and, minutes later, went to checkers as only a few minutes remained. Sage Karam was quickest in the session and would start from pole unless a driver from Group 2 could best his time.
As the green flag for Group 2 neared, the rain began to pick up. The majority of the field peeled out of pit lane and took to the very wet track as soon as the green flag flew, but the rain could not be ignored; the red flag came out before any flying laps could be completed due to the condition of the track. The cars on track returned to the pit lane and were covered by tarps, and were eventually pushed by the crews to the paddock after several minutes passed.
INDYCAR Race Control made the decision at 12:20 that Race 2 would be set by entrant points, declaring Indianapolis 500 winner Juan Pablo Montoya the Verizon P1 Award winner and polesitter.
After setting the fastest lap in Group 1, Sage Karam was definitely impact most by the decision to set the grid by points; he starts 21st on the grid as a result.
Race 2 is set to begin around 3:30 pm ET, pending the cooperation of the uncooperative weather that has been here at Belle Isle this weekend. The wet weather may go away around race time, and the track would only dry out as the race goes on. It is possible that INDYCAR will stamp a two-hour time limit on the race as was done yesterday, meaning the race would be completed at 70 laps or two hours - whichever comes first.
Stay tuned to @VAVELIndyCar for the latest.
---
Aaron Durant is the editor of the VAVEL USA Racing section. Follow him on Twitter at @DoubleA291.