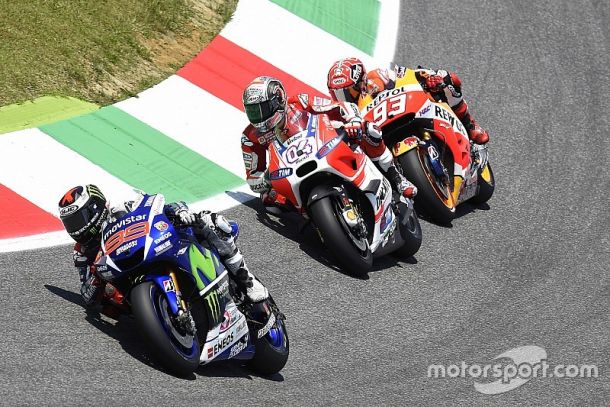 Following Sunday's Italian Grand Prix, a few riders of the premier class stayed to hit the track to test Michelin tires.
Michelin is set to replace Bridgestone as the MotoGP World Championship's official tire supplier for the 2016 season and beyond. The testing following Sunday's Italian Grand Prix won by Movistar Yamaha's Jorge Lorenzo was not the first time that Michelins had been fitted to MotoGP bikes; the first test took place at the second pre-season test at Sepang in Malaysia.
"The test riders, as well as the top riders, were very happy with the rear tires at the Sepang test," said Nicolas Goubert, Technical Director at Michelin. "We think we're already there with the rear; we just have to adjust it to the different venues we're going to . . . we will be concentrating on the front tire again this time."
Four types of front tires and three variations of rear tires were brought by Michelin to Mugello for testing by the four factory riders (total) from Repsol Honda and Movistar Yamaha, Andrea Dovizioso and Michele Pirro with Ducati Team, as well as Aprilia's Alvaro Bautista. Andrea Iannone picked up his best career finish to date last Sunday, but has elected to rest his injured shoulder, handing the testing duties to test rider Pirro. Also, Marco Melandri was absent from Aprilia, bringing forth speculation that he may leave the team before the next round at Barcelona next weekend.
"We will have four different front tires to test, and a couple of rears only," added Goubert. "The profile will actually be the same; it was the best profile we found in Sepang."
The importance is being stressed about having the current riders spend time on the new tires rather than test riders.
"You really have to have the right guys, the ones that are going to be on new tires next year, to tell us what they want, what they need, and what they will feel comfortable with."
Another test for factory riders and for others competing during this 2015 season is set to take place following the Czech Republic race on August 17th at Brno. The next round of the MotoGP World Championship will take place next weekend at the Catalunya Circuit in Barcelona, Spain.