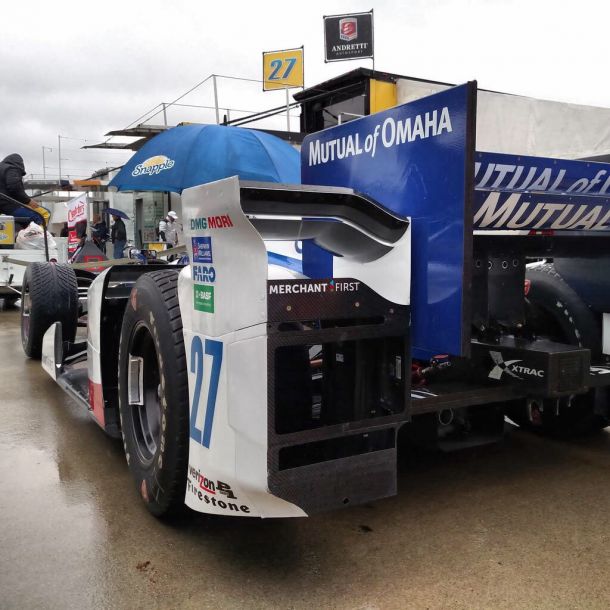 INDYCAR announced on Tuesday that it has implemented the use of closure panels to the rear wheel guards of both Honda and Chevrolet superspeedway aero kits beginning this weekend at Texas Motor Speedway. The panels were developed by Honda and Chevrolet, respectively, and will also be utilized at Pocono Raceway and Auto Club Speedway, the remaining races at superspeedways.

"This has been a collaborative effort with both manufacturers and they have been working on these since the Indianapolis 500 qualifications," said Will Phillips, INDYCAR Vice President of Technology.
It is interesting to note that such a solution has been in the works since the controversy arose due to the crashes in practice and qualifying leading up to the 99th Running of the Indianapolis 500 that took place on May 24.
"These closure panels serve as a blocker so air cannot flow through the rear wheel guards," Phillips explains. "This will ultimately raise the point at which cars would experience lift when traveling backwards."

INDYCAR also confirmed that the rear wing angle for all entries this weekend must be set between (-6) and (-10.5) degrees, which will still result in an increase in overall downforce compared to the 2014 event at Texas.
Stay tuned to the Racing section for coverage of the Firestone 600 and all other Verizon IndyCar Series races for the remainder of this 2015 season. Be sure to follow the new Twitter account of IndyCar coverage on VAVEL, @VAVELIndyCar, for links to the section's latest articles and live tweeting during on-track activities.
---
Aaron Durant is the editor of the VAVEL USA Racing section. Follow him on Twitter at @DoubleA291.