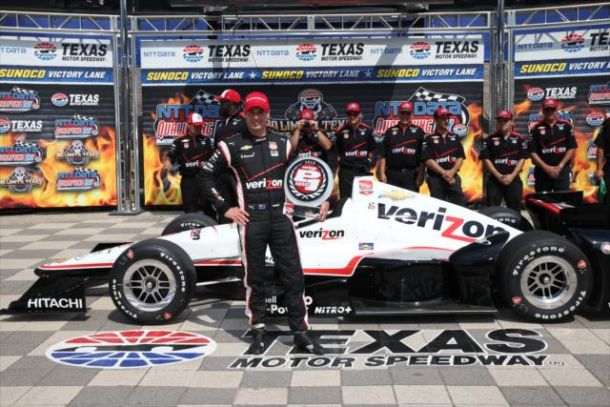 After not earning the pole for the Indianapolis 500 and a wet and wild weekend in Detroit, Team Penske returned to dominant form in qualifying for Saturday night's Firestone 600.
It was Will Power that set the fastest lap of the session, earning pole position for the 600-mile race with a two-lap average of 218.519 mph. Power was actually the first driver to make their qualiying attempt, and the only other driver to truly challenge him for the pole was his teammate Simon Pagenaud who qualified 0.017 seconds behind him. The Penske-sweep of the top three spots on the grid was completed by Helio Castroneves.
Power spoke about the impact the aero kits are making at the large Texas Motor Speedway.
"It's going to be about finding the right compromise for speed loss versus grip," he said. "I guess we'll try some things tonight and see how it all stacks up. I think you'll see a few different variations of what people bolt on as far as body kits go for the race."
Ryan Hunter-Reay had a crash in the only practice session that took place before qualifying, heavily damaging the rear of the car with big impact to the wall in Turn 2.
"We knew we were going to miss it by a bunch for qualifying, we had to be conservative, we didn't know what setup to really go with and no matter what, when you put a bunch of new stuff on the car like that, you never know where it's going to be stressed," said the Floridian.
Winner of Race 1 in Detroit, Carlos Munoz, was the fastest qualifier in a Honda-powered car as he will start fourth on the grid. Munoz broke up what would have been a perfect 1-2-3-4 for Penske foffr the second time this season, as Juan Pablo Montoya qualified fifth. Graham Rahal is the next Honda; he will start sixth. Also in a Honda, James Hinchcliffe's substitute (and winner of the 2010 race in Texas) Ryan Briscoe qualified the No. 5 Schmidt Peterson Motorsports car in 19th.
Starting last on the grid will be KV Racing Technology's Stefano Coletti; his two-lap average was 211.930 mph.
Click here for full results of qualifying.
---
Aaron Durant is the editor of the VAVEL USA Racing section. Follow him on Twitter at @DoubleA291 and follow the Twitter account of IndyCar coverage on VAVEL, @VAVELIndyCar.