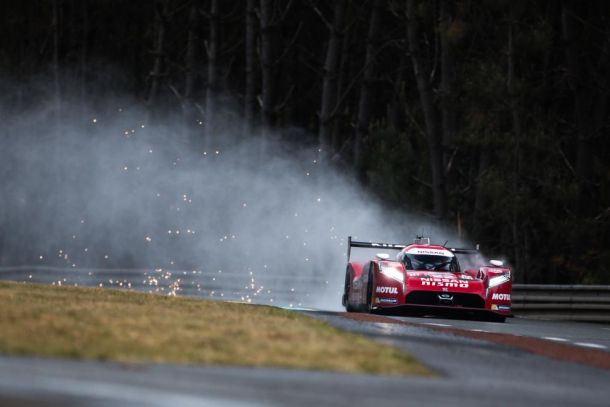 Seven cars, including four LMP1 entries, were moved to the back of the 24 Hours of Le Mans grid on Friday before the race on Satruday.
LMP1
Nissan's trio of GT-R LM NISMO entries are three of the four from the LMP1 category that were penalized on Friday. The fourth, the No. 4 ByKolles CLM P1/01 AER, like the Nissans, were more than 110% off the pace of the polesitting time of 3:16.887 set by the No. 18 Porsche 919 Hybrid, resulting in this penalization. The Nissans originally qualified 12th, 13th, and 15th, but will now start 30th, 31st, and 32nd on Saturday. As for the ByKolles entry, it had qualifed 11th, one spot ahead of the quickest Nissan, but will now start 29th.
LMP2
The Ibanez LMP2 ORECA entry has been penalized for the same reason as the four from the LMP1 category, and will start behind the third Nissan GT-R LM NISMO in 33rd.
GTE
The No. 71 AF Corse Ferrari F458 Italia as well as the No. 68 Team AAI Porsche 919 RSR have been moved to the back of the GTE starting grid. The Ferrari failed to reach a lap time in qualifying within 120% of the LMP1 polesitting time, and the Porsche suffered damage due to a fire on Thursday. These two will start in the last two spots on the grid, 54th and 55th, respectively.
Note that the No. 63 Corvette C7-R withdrew from the race following Jan Magnussen's crash on Thursday, leaving the field with one fewer car.
For continued coverage of the 83rd edition of the 24 Hours of Le Mans and other SportsCar coverage, follow @VAVELSportsCar on Twitter.
---
Aaron Durant is the editor of the VAVEL USA Racing section. Follow him on Twitter at @DoubleA291.