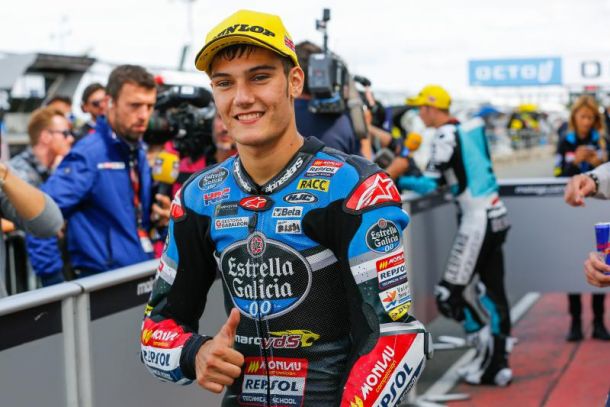 In an action-packed Moto3 qualifying session at Silverstone, it was Spaniard Jorge Navarro taking the pole aboard his Estrella Galicia 0,0 bike.
He stunned the British crowd by knocking Danny Kent off the provisional pole position, with Karel Hanika of Red Bull KTM Ajo behind by half a second.
Championship leader, Kent, starts third for Leopard Racing. Kent looked calm and collected in the garage but noted that he would not last at the top and decided to head back out. He managed to find a space and worked with teammate Efren Vazquez to go quicker, only to see Navarro take the top spot from him in the end.
Hanika was able to gain a tow from Navarro on his pole-securing lap to knock Kent down to third place on the grid.
Behind Navarro, Kent, and Hanika on the grid will be Vazquez, Isaac Vinales, Alexis Masbou, Enea Bastianini, Romano Fenati and Brad Binder rounding out the top-10.
The Moto3 race will begin at 9:30 am ET on Sunday.
Follow @VAVELMotoGP on Twitter for continued coverage of the Octo British Grand Prix weekend at Silverstone.
---
Neil Simmons is a writer for the VAVEL USA Racing section. Follow him on Twitter at @world_racing.