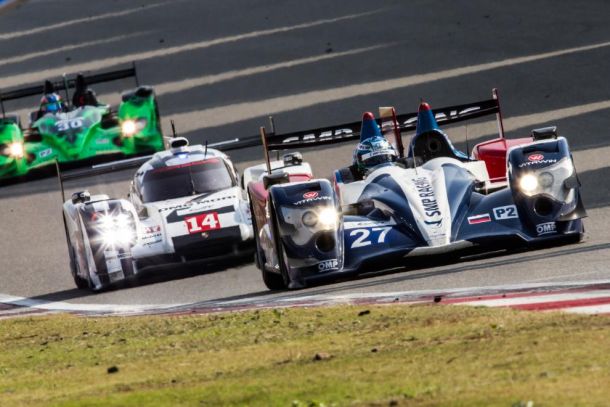 Thirty-two cars were entered for this weekend's 6 Hours of Shanghai, the penultimate round of the 2015 FIA World Endurance Championship season, but the withdrawal of the No. 95 Young Driver AMR Aston Martin has dropped that total down to 31.
With just two races remaining in the 2015 season entering the Shanghai weekend, it's crunch time for title contenders across the four classes. Two championships are eligible to be claimed at Shanghai as Porsche looks to take the Manufacturer's World Championship off the table and SMP Racing closes in on the GTE-Am title. All other awards will be earned and handed out at next month's finale in Bahrain.
Only a few notables are present in the entry list for Shanghai.
Pegasus Racing will make its regular season debut in the LMP2 class with a Morgan Nissan. Driving this ninth entry in the secondary prototype class for the weekend will be David Cheng, Ho-Pin Tung and a third TBA driver.
With Vincent Capillaire's six-race campaign with the French team Signatech-Alpine coming to a close at the last round at Fuji, a third driver has yet to be named to the No. 36 Alpine A450B Nissan-powered car.
Stefan Mücke will be absent at both Shanghai and the Bahrain finale as he is not listed in any of the Aston Martin Racing cars for Shanghai and will take part in the FIA GT World Cup event that takes place on the same weekend as Bahrain.
After missing Fuji due to GP2 committments, Richie Stanaway will return to the wheel of the No. 99 Aston Martin Vantage V8, of which there will only be four rather than five following the withdrawal of the No. 95.
Klaus Bachler will be back for Abu Dhabi-Proton Racing as well after missing races due to events clashing with other series.
The 6 Hours of Shanghai will begin at 11:00 pm ET on the night of Saturday, October 31.