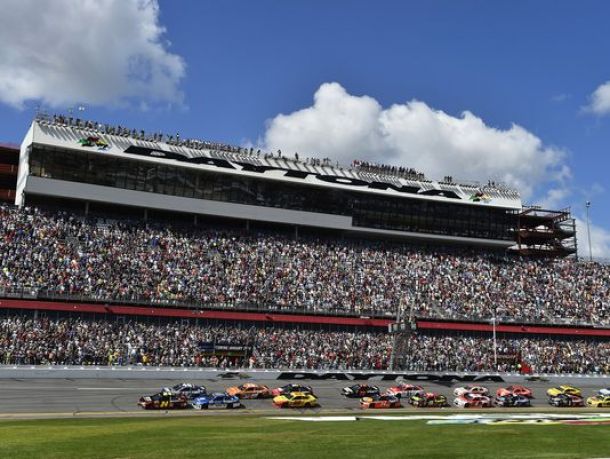 NASCAR announced on Monday afternoon that they have reached five-year sanctioning agreements with 23 tracks for the Sprint Cup Series, and 24 for the XFINITY Series as they unveiled the 2016 schedules for both.
The 2016 Daytona 500 will be held on Sunday, February 21, with the season-opening XFINITY Series race to be held the day prior.
After that, NASCAR will travel to Atlanta Motor Speedway before going to the west coast for the annual "NASCAR Goes West" campaign that will see races at Las Vegas Motor Speedway, Phoenix International Raceway, and Auto Club Speedway.
"We learned that NASCAR Goes West worked very well in keeping momentum and interest for NASCAR in these markets," said Steve O'Donnell, NASCAR Executive Vice President and Chief Racing Development Officer. "The tracks put a lot of effort behind making it successful and we think it can continue to have a positive impact as it gains traction from being an annual effort. The efficiency of conducting three consecutive events also is helpful to the teams and industry."
Among notable changes, it was announced that the XFINITY Series will make it's debut at Pocono Raceway when the Sprint Cup Series travels there in June. Also announced was the change in dates with the spring race at Richmond. That weekend will now be a Saturday and Sunday race schedule, as opposed to the previous Friday and Saturday schedule.
The Coke Zero 400 at Daytona in July is being moved back to Saturday night, as opposed to the Sunday afternoon event that was moved to a Sunday late night event this year due to rain that saw Austin Dillon end up in the catch fence as the field took the checkered flag.
"Among the goals that we set out to accomplish with our track partners was to provide consistency for race fans and the industry stakeholders," said O'Donnell. "We feel like we have a nice balance of that for 2016."
"The stability of five-year agreements positions us well to deliver fans with schedules as early as possible over the next several years. This is a new approach for our industry, and one that benefits everyone: fans, tracks, teams, drivers, OEMs, media and partners."
The 2016 schedule for the Camping World Truck Series will be announced at a later date.
---
Follow @NASCARonVAVEL on Twitter for VAVEL USA's coverage of the Sprint Cup Series, XFINITY Series, and Camping World Truck Series.