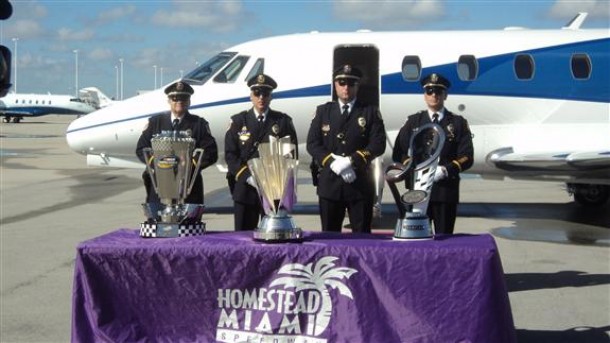 Sunday's Ford EcoBoost 400 at Homestead-Miami has the potential to be very memorable. Besides being the place where the series champion will be crowned, it is also where Jeff Gordon will run his final race in NASCAR.
---
Weekend Schedule (All Times Eastern)
Friday, November 20th
Practice #1: 12:00 p.m. - 1:25 p.m.
Qualifying: 6:15 p.m.
Saturday, November 21st
Practice #2: 10:00 a.m. - 10:55 a.m.
Final Practice: 1:00 p.m. - 1:50 p.m.
Sunday, November 22nd
Race: 3:00 p.m. (NBC)
---
Weekend Notebook
- The 2015 NASCAR season comes to a close this weekend at Homestead, and with it comes the close of the NASCAR career of Jeff Gordon. Fittingly, he is one of the final four still in the hunt for the championship.
- At Homestead, Gordon has one win, seven top five finishes, and 12 top 10 finishes in 15 races in his career. Those numbers will help in his quest for a fifth and final series championship.
- High finishes are critical for the final four, as the champion will be the one of them who finishes the highest, no matter what. No more "Points Racing", meaning that the formula for a championship could not be any simpler.
- Kevin Harvick is also in the final four, and he is looking for his second consecutive championship. Harvick has been fairly successful at the track, with one win (which came last season), six top five finishes, and 12 top ten finishes in 14 career races at Homestead.
- Kyle Busch is also in the hunt for the title, which would be his first career Sprint Cup championship. What makes this season memorable for him is the fact that he missed the first part of the season after breaking his leg in the season opening Xfinity Series race at Daytona.
- In his career at Homestead, Busch has no wins, just one top five finish, and just three top ten finishes in 10 races. If he wins the championship, it will also be the first ever title for a Toyota driver.
- Martin Truex Jr. has been flying under the radar all season, which can be forgiven when you realize that he is a one car operation that is based out of Denver, where most other NASCAR teams are based out of Charlotte. He has 10 career races at Homestead, with no wins, three top five finishes, seven top ten finishes, and an average finishing position of 10th place, which is second best among the final four.
- There are 39 other drivers who will be racing on Sunday, and all of them will be looking to steal a win. Among those who are the non-chase favorites to win are Joey Logano, who is looking for his first win at Homestead, Greg Biffle, who leads active drivers in wins at Homestead with three, Dale Earnhardt Jr., and Jimmie Johnson, among other drivers.
- Earnhardt Jr. won last week's race in Phoenix, which clinched the manufacturers championship for Chevrolet. It is the 13th season in a row that they have won the crown, and the 39th time overall. Chevrolet drivers have won 14 races this season.