In what was a very crazy qualifying day from the Atlanta Motor Speedway, it was Kurt Busch who was able to get the pole for the Folds Of Honor QuikTrip 500. The race will begin around 1 P.M. EST on Sunday, February 28th.
Round 1
Round 1 was a very crazy and unexpected round for some of the drivers. Drivers such as Joey Logano and Ryan Blaney had to try to battle through their cars being very lose throughout their laps. It affected Logano so badly that he was unsuccessful in trying to advance to round 2. Logano will start 27th for the race on Sunday.
Chase Elliott, Daytona 500 pole winner, was in a good position to move on to round 2 as he clocked a good lap that was able to put him into the 23rd position with the top 24 advancing. However, Brad Keselowski and Ryan Blaney both had to come back out on to the track to run another lap, and both were able to bump into the top 24 and advance to the 2nd round. That bumped Chase Elliott to 25th, which is where he will start for the race on Sunday. Kyle Busch clocked one of the quickest laps of the weekend, and led the first session of qualifying.
Round 2
The top 12 in session two went on to advance to round 3. Notable names that were unable to move onto round 3 were Denny Hamlin, Matt Kenseth, Dale Earnhardt Jr., Brad Keselowski, Jimmie Johnson, and Kyle Larson. Jamie McMurray ran an amazing lap that helped him lead the second session, and moved him on to the third session.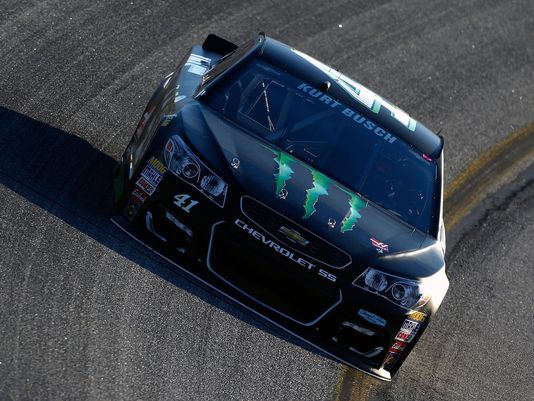 Round 3
Round 3 seemed to be the round for the Busch brothers. However, after qualifying, the pole winner Kyle Busch's pole winning lap time was disqualified. Therefore, that moves Kurt Busch to the pole, and bumps Jamie McMurray to the front row as well. McMurray will start 2nd. That is very unfortunate for Kyle Busch, as he looked very impressive in qualifying, and now he will have to come up through the field. Busch failed post qualifying, and NASCAR said it was something to do with the rear of Busch's car.
Look Ahead To The Race
As some of the drivers seemed to find out during qualifying, they will be battling with a loose car at times during the race on Sunday, which will be something to watch for in the race. Watch for those notable drivers that are starting back in the field a little to try to work their way up the field quickly. Those drivers are not used to being back in the pack to start the race.
Check for live updates on the @NASCARonVAVEL Twitter account during the race.