 Every week through the rest of the season, the VAVEL NASCAR staff will pick the driver who they think will preform the best that weekend. The points system will be simple, much like the system NASCAR uses to determine a champion.
At the beginning of the week, each person will select one driver, who will be their driver for the week. Each person will earn points based on how their driver does.
If the driver wins, the person will recieve 10 points, second place will recieve 9 points, and so on, with 10th place earning just one point. Bonus points will be added for laps led, with every 10 laps led earning one point, and a five point bonus if the driver leads the most laps.
Here are the standings so far:
| | |
| --- | --- |
| Writer | Points |
| Brandon Farris | 0 |
| Stevie Larson | 0 |
| Mark Smith | 0 |
| Stephen Frust | 0 |
Here are the picks for this weekend's race at Las Vegas Motor Speedway.
Brandon Farris
Driver: Jimmie Johnson
Explanation: "Always does well in Vegas, coming off his 76th career win, he seems very likely to get his 77th."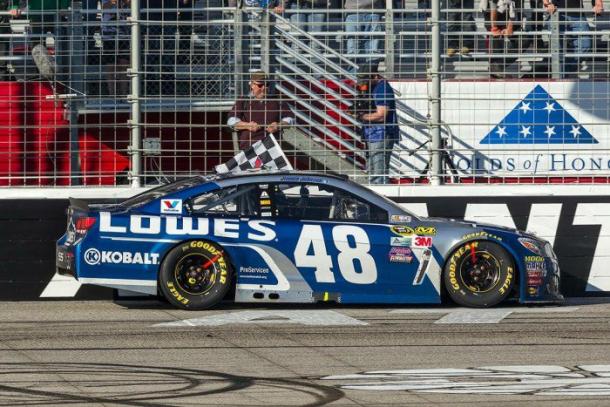 Stevie Larson
Driver: Dale Earnhardt Jr.
Explanation: "Earnhardt Jr. has had a rocky start to the season, as his Daytona 500 ended in heartbreak after he was involved in a crash. He had a better showing at Atlanta, where he took home a second place finish. I think that he will be hungry to win this weekend at Las Vegas."
Mark Smith
Driver: Kevin Harvick
Explanation: "After last week's sixth place finish for the #4 driver, he will looking to take the victory this week after dominating most of the race at Atlanta Motor Speedway. Harvick led over 130 laps last week and having not gone to Victory Lane will have given him a boost to take the top spot at Las Vegas. I think he will win but his main competition will be last week's winner Jimmie Johnson."
Stephen Frust
Driver: Matt Kenseth
Explanation: "He has shown that he is hungry for a win while being a contender already this year. He has three wins at the track already and 6 top 5 finishes with an one of the highest average finishes of the active drivers at the speedway with an average of 11.4."