 Jimmie Johnson made history last Sunday at Atlanta Motor Speedway when he won the Folds of Honor QuikTrip 500, as it was his 76th career win, which ties him with Dale Earnhardt Sr. on NASCAR's all-time wins list. He now turns his sights ahead to Las Vegas and the Kobalt 400.
---
WEEKEND SCHEDULE (ALL TIMES PACIFIC)
Friday, March 4
10:30 a.m. - Practice #1
4:45 p.m. – Qualifying
Saturday, March 5
8:30 a.m. – Practice #2
11:30 a.m. – Final Practice
Sunday, March 6
12:30 p.m. – Race
---
NASCAR Sprint Cup Series Point Standings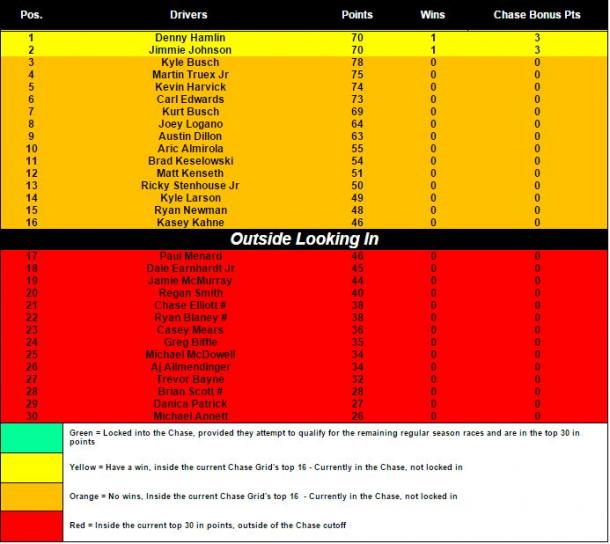 ---
TRACK INFORMATION
Track Name: Las Vegas Motor Speedway
Track Location: Las Vegas, Nevada
Track Size: 1.5 miles
Banking/Turns: 20 degrees
Banking/Straightaways: 9 degrees
Race Length: 267 laps / 400.5 Kilometers (249 Miles)
---
WEEKEND NOTEBOOK
- Last week's race was the first of the new lower downforce package that NASCAR is running at most tracks this season, and drivers were very pleased with the results. "It was fun," Dale Earnhardt Jr. said after the race. "You know, everybody just wasn't hooked up and hauling tail. You had to drive the cars. The cars were a real challenge, and I had a great time today inside of the car and enjoyed driving it." The stats backed it up, as there were 44 passes for the lead on Sunday, the most at Atlanta since 2005.
- One of the favorites this weekend is Kevin Harvick, who is a native of Bakersfield, California. Harvick dominated the west coast swing last season, as he won at Las Vegas and Phoenix, and added a second place finish at Auto Club Speedway. Harvick has made 15 career starts at the track, with one win, four top five finishes, and six top ten finishes. He has had a strong start to the season, as he recorded a fourth place finish in the season opening Daytona 500, as well as a sixth place finish last weekend.
- Kyle Busch won the pole last weekend, but had it taken away when his car failed post-qualifying inspection. His brother, Kurt Busch, started on the pole instead. This weekend, the Busch brothers will race at their hometown track, as they grew up in Las Vegas. Ky. Busch has one career win at the track, coming in 2009, but his brother still has yet to win a race at the track. In 14 career starts, Ku. Busch has just one top five finish, with an average finish of 22nd.
- The surprise from last season was Ku. Busch, who was in the final four in the Chase for the Sprint Cup. The big question coming into this season was whether or not last season was a fluke. So far, he has proven that it was not, as he barely missed winning the season opening race, and added a seventh place finish last weekend. He also has a strong history at the track, as he finished second in the race last season. Look for him to continue to defy the odds with his one car team based out of Denver, Colorado.
- NASCAR announced the penalties from the Atlanta race, and they were very harsh, particularly when talking about Truex Jr. He was penalized for having a roof flap issue before the race. His crew chief has been suspended for one race, along with a $50,000 fine. Truex was also docked 15 points, which drops him from second in points to tenth in points. The penalties will not be in effect this weekend, as the team has filed an appeal, which will most likely be heard next week.