 Kevin Harvick is essentially the king of Phoenix International Raceway. He has won five of the last seven Sprint Cup races there, and has seven career wins at the track, He is also the defending race winner, although he did not sweep last year, as a rainout helped Dale Earnhardt Jr. win the fall race.
---
WEEKEND SCHEDULE (All Times Pacific)
Friday, March 11
10:30 a.m. - 11:55 a.m. - 1st Practice
4:45 p.m. - Qualifying
Saturday, March 12
8:30 a.m. - 9:25 a.m. - 2nd Practice
11:00 a.m. - 11:50 a.m. - Final Practice
Sunday, March 13
12:30 p.m. - Race
---
SPRINT CUP POINTS STANDINGS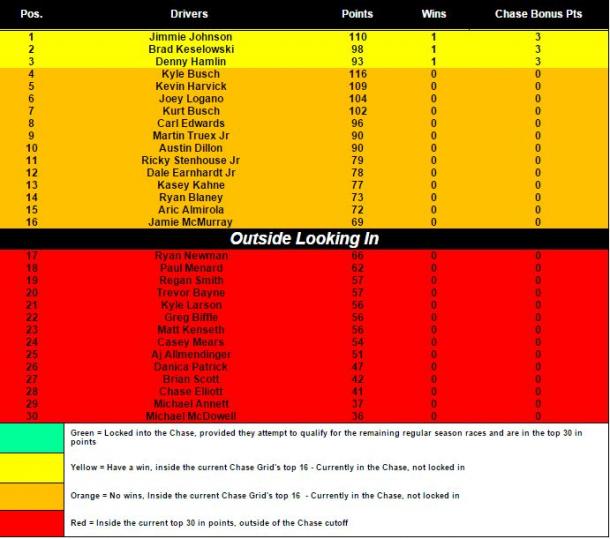 ---
TRACK INFO
Track Name: Phoenix International Raceway
Track Size: 1-mile
Banking/Turns 1 & 2: 10-11 degrees
Banking/Turns 3 & 4: 8-9 degrees
Banking/Frontstretch: 3 degrees
Banking/Backstretch: 8-9 degrees
Frontstretch Length: 1,179 feet
Backstretch Length: 1,551 feet
Race length: 312 laps / 500 kilometers
---
WEEKEND NOTEBOOK
- Kevin Harvick is the overwhelming favorite to win this weekend, and rightfully so, as in addition to seven total wins at Phoenix, he has an average finish at the track of ninth, second best in the series behind only Jimmie Johnson. In addition, he started last year's race on the pole, which surprisingly was the first time he started on the pole at Phoenix.
- Johnson is the other massive favorite this weekend, as his driver rating at Phoenix is the highest among all active drivers. He also holds the track qualifying record, which he set before the fall race last year.
- Qualifying is key at Phoenix, as the furthest back in the field an active winner has started was 28th, which Matt Kenseth did in 2002. In addition, only three of the 39 Sprint Cup races at the track have been won from a starting position outside of the Top 20. 51% of the races have been won from a top ten starting position.
- Phoenix is not a rookie-friendly track, as only two drivers have won their first Sprint Cup race at the track, with the last one being Bobby Hamilton in 1996. 21 of the 23 drivers to ever record a Sprint Cup win at Phoenix have run at least two races at Phoenix before winning. Only Alan Kulwicki and Tony Stewart have won their first race at Phoenix.
- While most of the attention is turned towards the series championship, arguably the best race right now is the race to be named rookie of the year. Entering this weekend, Ryan Blaney leads Chase Elliott by seven points. Brian Scott and Chris Buescher are tied for third, with Jeffrey Earnhardt sitting in fifth place.
- One driver who could be a dark horse is Austin Dillon, driver of the Richard Childress Racing #3 car. Dillon has started the season strong, including a fifth place finish at Las Vegas. He is also sitting in 10th in the series points standings. This is his third full-time Sprint Cup season.
- Dillon's brother, Ty Dillon, will be in the Stewart-Haas Racing #14 car this weekend as Tony Stewart continues to recover from a back injury suffered before the season. This is T. Dillon's third race this season, and his second in the 14 car. He had one race at Phoenix last season, in which he placed 27th.