 Kevin Harvick took home the win last weekend at Phoenix International Raceway, and will look to win two in a row this weekend at Auto Club Speedway. Kyle Busch, meanwhile, will try to stop him, while also picking up his first win of the season.
---
Weekend Schedule (All Times Pacific)
Friday, March 18
10:30 a.m. - 11:55 a.m.: First Practice
4:45 p.m.: Qualifying
Saturday, March 18
8:00 a.m. - 8:55 a.m.: Second Practice
11:30 a.m. - 12:25 p.m.: Final Practice
Sunday, March 20
12:30 p.m.: Race
---
Track Information
Track Name: Auto Club Speedway
Track Size: 2 Miles
Banking/Turns: 14 degrees
Banking/Frontstretch: 11 degrees
Banking/Backstretch: 3 Degrees
Race Length: 200 Laps / 400 Miles
---
Sprint Cup Series Standings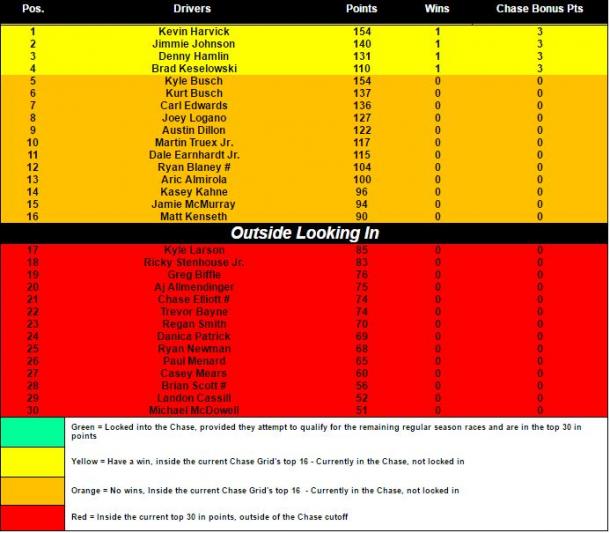 ---
Weekend Notebook
- Last weekend's finish at Phoenix was the second time this season that the winner was determined by less than half a second, with the first time being the Daytona 500.
- Harvick came away with the win, giving him six wins in the last seven Sprint Cup races at Phoenix. The only one he did not win was the fall 2015 race, when Dale Earnhardt Jr. won a race that was called early due to weather.
- Turning to this weekend, there have been 15 different winners at Auto Club Speedway. Jimmie Johnson leads the series with five career wins at the track.
- Starting position is once again going to be a big part this weekend, as 53% of the races at Auto Club have been won from a top-10 starting position. At the same time, only one race at Auto Club has been won from the pole. The only driver to do that is Johnson in 2008.
- Brad Keselowski enters this weekend as the defending race winner, but that does not always mean he will win this weekend, as only Johnson and Kyle Busch have won consecutive races at Auto Club.
- If Denny Hamlin wins the pole this weekend, he will tie Kurt Busch for most poles at Auto Club Speedway with four. Johnson can also hit a milestone this weekend, as he is only 145 laps led away from becoming the ninth Sprint Cup driver to lead 18,000 career laps.