 The NASCAR Sprint Cup Series is back in action this week, as they head to Martinsville Speedway for the STP 500.
---
Weekend Schedule
Friday, April 1
11:00 a.m. - 12:20 p.m.: First Practice
4:15 p.m.: Qualifying
Saturday, April 2
10:00 a.m. - 10:55 a.m.: Second Practice
1:00 p.m. - 1:50 p.m.: Final Practice
Sunday, April 3
1:00 p.m.: STP 500
---
Track Information
Track Name: Martinsville Speedway
Track Location: Martinsville, Virginia
Track Size: 0.526 Miles
Banking/Turns: 12 degrees
Banking/Frontstretch: 0 degrees
Banking/Backstretch: 0 degrees
Frontstretch Length: 800 feet
Backstretch Length: 800 feet
Race Length: 500 laps / 263 miles
---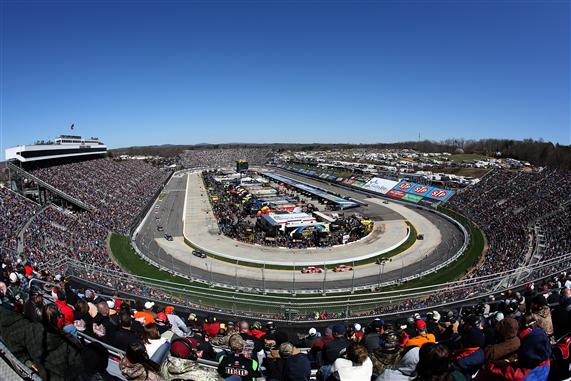 Weekend Notebook
- After the races at Auto Club Speedway, NASCAR penalized Danica Patrick with a fine and probation for approaching the racing surface after she was involved in a wreck.
- Kyle Busch also got a fine and probation for a incident during the Xfinity race where he made comments on the radio that included accusing NASCAR of fixing the outcome of the races.
- If Joey Logano wins the pole this weekend, it will be his third straight pole at the track. Logano won both poles last season, but did not win either race.
- Starting from the pole may not be the best thing at Martinsville, as only 15% of pole winners have gone on to win the race, with the last one being Jimmie Johnson in the spring 2013 race. It is important, however, to start in the top-10, as 71% of the races have been won from a top-10 starting position.
- Sad news broke in the NASCAR world on Thursday morning, as it was announced that Ryan Shea, the car chief for the Chip Ganassi Racing 42 car in the Xfinity Series, passed away in his sleep. He was 34 years old.
- "It is a sad day for our team as we mourn the untimely loss of Ryan," team owner Chip Ganassi said in a team release. "Ryan was a dedicated worker and a great friend to those on our team, as well as others in the garage. Our hearts go out to Ryan's family and friends during this difficult time."