 Kyle Busch will look to make it two wins in a row this weekend when the NASCAR Sprint Cup Series takes the track at Texas Motor Speedway for the Duck Commander 500, which will be on Saturday night, the first time this season that there has been a Saturday night race.
---
Weekend Schedule (All Times Central)
Thursday, April 7
4:30 p.m. - 5:55 p.m.: First Practice
Friday, April 8
1:45 p.m.: Qualifying
5:30 p.m. - 6:50 p.m.: Final Practice
Saturday, April 9
6:30 p.m.: Race
---
Track Information
Track Name: Texas Motor Speedway
Track Size: 1.5-mile
Banking/Turns: 24 degrees
Banking/Straightaways: 5 degrees
Frontstretch Length: 2,250 feet
Backstretch Length: 1,330 feet
Race Length: 334 laps / 501 miles
---
Series Standings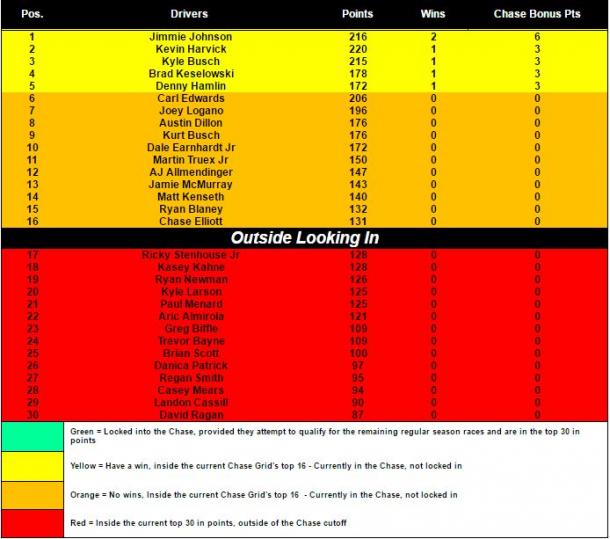 ---
Weekend Notebook
- Earlier this week, NASCAR suspended driver Derek White indefinitely after he was arrested in relation to a tobacco smuggling case. White has mostly raced in the Xfinity Series and Camping World Truck Series, but did run in the Sprint Cup race last year at New Hampshire Motor Speedway, where he finished 39th.
- Moving on to this weekend's race, this is the first Saturday night race of the season, but it hasn't always been on Saturday. Before the 2011 season, the spring race at Texas was held on Sunday afternoon, but was moved that season, and has stayed on Saturday ever since.
- This will be the first ever race at Texas without Jeff Gordon in the field. Before his retirement at the end of last season, Gordon had started all 30 Sprint Cup races at Texas. He will be in the Fox Broadcast booth for the race this weekend while Chase Elliott pilots the #24 NAPA Chevy for Hendrick Motorsports.
- If Kevin Harvick is the king of Phoenix, then Jimmie Johnson has to be the king of Texas. Johnson has six career wins at the track, and has won five of the last seven races at Texas, including this race last year. He leads all drivers in wins at Texas.
- Johnson is one of just seven drivers to have multiple wins at the track. Joining him are Carl Edwards, who has three, Greg Biffle, Jeff Burton, Denny Hamlin, Matt Kenseth, and Tony Stewart, who each have two wins.
- Stewart will not be racing this weekend, in what is his final Sprint Cup season. He has missed every race so far this season after injuring his back during a pre-season ATV accident. There is no current timetable for his return to racing.