 The NASCAR Sprint Cup series is heading to Richmond International Raceway for the Toyota Owners 400 after a race at Bristol Motor Speedway that was anything but ordinary.
---
Weekend Schedule
Friday, April 22
11:00 a.m. - 12:25 p.m.: First Practice
4:15 p.m.: Qualifying
Saturday, April 23
8:30 a.m. - 9:25 a.m.: Second Practice
11:00 a.m. - 11:50 a.m.: Final Practice
Sunday, April 24
1:00 p.m.: Race
---
Track Info
Track Name: Richmond International Raceway
Track Size: 0.75 Miles
Banking/Turns: 14 degrees
Banking/Frontstretch: 8 degrees
Banking/Backstretch: 2 degrees
Frontstretch Length: 1,290 Feet
Backstretch Length: 860 Feet
Race Length: 400 Laps / 300 Miles
---
Weekend Notebook
- Tony Stewart made news on Thursday morning when he announced that he would return to racing this weekend at Richmond. Stewart had missed the first part of the season after injuring his back before the season while riding atv's in California.
- Stewart will be eligible for the Chase for the Sprint Cup, assuming he meets all of the other qualifications, after NASCAR announced that he had been granted a waiver. If he had not gotten the waiver, he would not have been eligible for the Chase due to the missed races.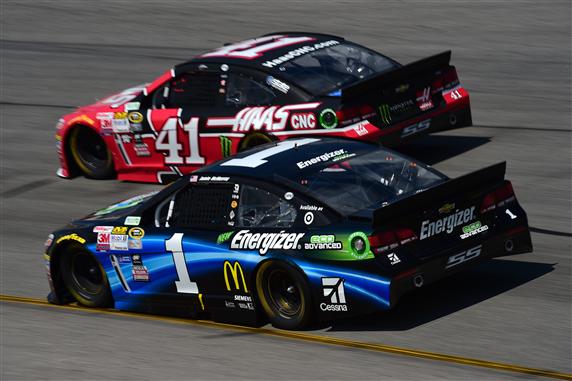 - Matt Dibendetto also made news this week, coming off his top-10 finish at Bristol. He announced that if he is voted into the All-Star race by the fans, he will change the name on his car to Diburrito.
- Moving on to this weekend's race, Richmond is not a very friendly track for rookies, as only five drivers have ever posted their first series win at the track, with the last being Kasey Kahne, who won in 2005.
- Starting on the pole is the best thing this weekend, as 19% of winners have started on the pole, which is the most of any starting position, while just 11% of races have been won from a starting position outside the Top-20.
- Even if you do not start on the pole, your going to want to start up front, as the furthest back in the field that a race winner has started was 31st, when Clint Bowyer started there and won in the spring 2008 race.
- Eight active drivers have won at Richmond, although just two have multiple wins, those being Kyle Busch and Dale Earnhardt Jr. On the other end of the spectrum, Greg Biffle has run 27 races at Richmond without having a win, the longest such active streak.