 This weekend, the NASCAR Sprint Cup Series makes a stop at Talladega Superspeedway for a race that is always a fan favorite, the Geico 500. There will be 40 drivers that start the race, but the question is how many will finish it? We'll find out on Sunday, but for now here is the weekend schedule and notebook.
---
Weekend Schedule
Friday, April 29
1:30 p.m. - 2:25 p.m.: First Practice
3:30 p.m. - 4:25 p.m.: Final Practice
Saturday, April 30
11:30 a.m.: Qualifying
Sunday, May 1
12:00 p.m.: Race (188 Laps, 500.08 Miles)
---
Weekend Notebook
- Tony Stewart is once again dominating the news, but this time it's for what he will not do. He will start the race on Sunday, but he will not finish. Sometime during the race, he will be removed from the car, and Ty Dillon will take over for the rest of the race.
- This move has caused some controversy, as the big question was how would NASCAR treat this in terms of who gets the points. The decision was made on Tuesday that since Stewart would be starting the race, he will get any and all points that are accumulated during the race, regardless of who is driving the car.
- That also applies to if Dillon were to win the race, Stewart would get the points and the eligibility into the season ending Chase For The Sprint Cup.
- Also making news is Dale Earnhardt Jr., who will be running the car that he named Amelia, after Amelia Earhart, the famous pilot. Earnhardt Jr. has had success in this particular car, as he used it to win last year's Geico 500, and at the July Daytona race last season.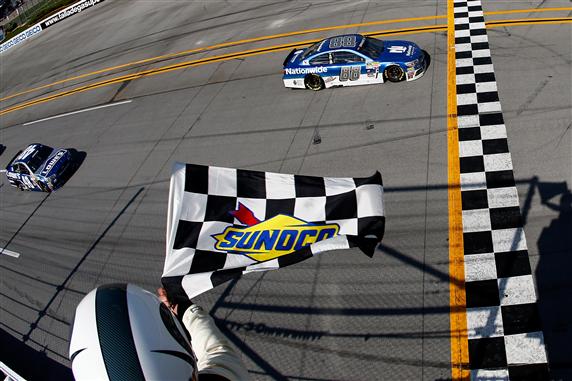 - Amelia did suffer some damage at this season's Daytona 500 when Earnhardt Jr. wrecked, but reports are indicating that the damage has been fixed, and Amelia will be ready for this weekend.
- Last weekend's Richmond race was a big one for Kasey Kahne, as he put up his first fifth place finish since the Kansas Chase race last season. He will be looking to win this weekend for the first time in 56 races.
- Kahne has never won at Talladega, but he does have three top fives and 10 top 10s. He has finished in second twice. He will look to finish the race in victory lane on Sunday afternoon.