Kansas Speedway is the sight of what may have been one of the top feuds of last season. It was the fall race last season when Joey Logano and Matt Kenseth had their first run-in that would follow them all the way up through the Martinsville race, but the question is what will happen under the lights on Saturday? Will we see another round of Kenseth v Logano, or will one of the rookies break through and steal the spotlight?
---
Weekend Schedule (All Times Central)
Friday, May 6
10:30 a.m. - 11:25 a.m.: First Practice
12:30 p.m. - 1:50 p.m.: Final Practice
5:45 p.m.: Qualifying
Saturday, May 7
6:00 p.m.: Driver Introductions
6:30 p.m.: Race (267 Laps, 400.5 Miles)
---
Series Standings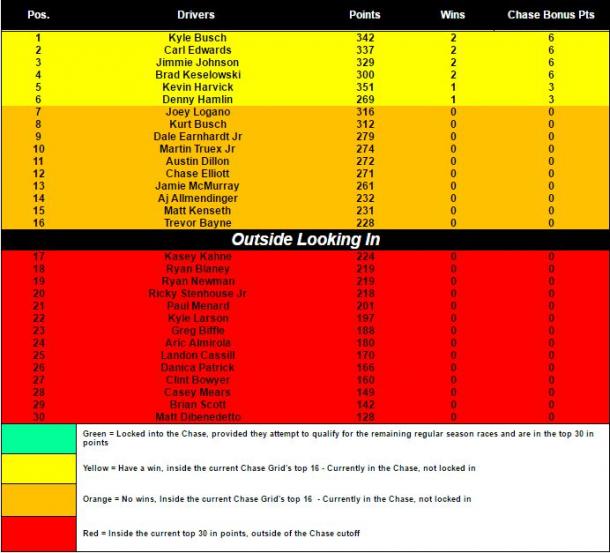 ---
Track Info
Track Size: 1.5-Miles
Banking/Turns: 17-20 degrees
Banking/Frontstretch: 10 degrees
Banking/Backstretch: 5 degrees
Frontstretch Length: 2,685 feet
Backstretch Length: 2,207 feet
---
Weekend Notebook
- Brad Keselowski picked up his second win of the season on Sunday in the Geico 500 at Talladega Superspeedway in a race that was filled with crashes, including one that took out almost half of the field. Don't expect that many crashes this weekend, because Kansas Speedway only averages 8 cautions for 38 laps, but anything can happen.
- Jimmie Johnson has the best performance record at Kansas, as his driver rating of 112.0 is the best among active drivers. He also has an average finish of 8.7, which is also best among active drivers.
- In addition to those stats, Johnson is the defending race winner, which certainly makes him one of the favorites to end up in victory lane on Saturday night.
- If Johnson finishes in the Top-10, he will move into 13th on the all-time Top-10 finishes list. He currently is tied for 13th with Bill Elliott at 320 Top-10 finishes.
- Qualifying on Friday afternoon will be critical to a good finish on Saturday, as only two races have been won from a starting position outside the Top-20, with the most recent being Keselowski in 2011. He won that race from the 25th spot, which is also the furthest back a race winner has started.
- Do not bet on a rookie to win this weekend, as Jeff Gordon is the only driver to win in his first ever Sprint Cup start at Kansas, with that being in 2001, which was also the first event ever at the track.
- While there have been two races that have ended with a green-white-checkered finish, both have been in the fall, with the last one being the 2015 race, which went two laps over the scheduled distance.