Carl Edwards won the Sprint All-Star race last weekend, despite seemingly nobody knowing the rules. Drivers were among the many that were confused by certain rules throughout the night. Even NASCAR said after the race that some of the events that happened were not planned for.
Thankfully for drivers and fans, it is back to normal rules this weekend at Charlotte Motor Speedway for the Coca-Cola 600. In addition to being the longest race of the season, it is also the hometown race for the majority of the teams. Here is the weekend schedule and notebook to get you ready for the race weekend.
---
Weekend schedule
Thursday, May 26
2:00 p.m. - 3:25 p.m.: First Practice
7:15 p.m.: Qualifying
Saturday, May 28
10:00 a.m. - 10:55 am.: Second Practice
1:00 p.m. - 1:50 p.m: Final Practice
Sunday, May 29
6:00 p.m. - Race (600 Miles, 400 Laps)
---
Weekend Notebook
- The fun and festivities of the All-Star race are over, and it is now back to good old racing this weekend. Sunday is arguably the best day in motorsports, as the Coca-Cola 600 is preceded by the Indianapolis 500 in the morning. Enjoy the day, race fans.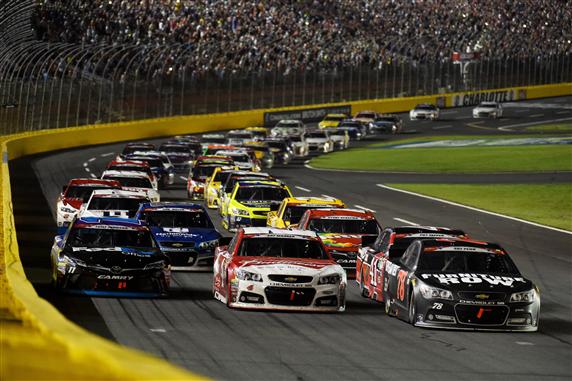 - NASCAR announced on Wednesday the 2017 Hall of Fame class. They include Richard Childress, Rick Hendrick, Mark Martin, Raymond Parks and Benny Parsons. H. Clay Earles, the founder of Martinsville Speedway, was selected to receive the Landmark award from NASCAR.
- This race, in addition to being the longest of the season, is also known as one of the most patriotic, due to it occurring over Memorial Day weekend. Look for a lot of red white and blue themed cars and fire suits this weekend.
- Starting on the pole here is very important, as 28% of race winners have started on the front row, with 76% being won from the top-10. The deepest that a winner has come was 37th, which Jimmie Johnson did in 2003.
- Kasey Kahne, Kevin Harvick, and Matt Kenseth each have three runner-up finishes at Charlotte to lead all active drivers in amount of times finishing second.
- Johnson has led 1,735 laps at Charlotte, the most of any active driver. He is also considered one of the favorites this weekend, and it's not hard to see why. Other drivers to look out for include Chase Elliott and Kyle Larson, who both had impressive showings during All-Star race festivities last weekend.