The NASCAR Sprint Cup Series is leaving Charlotte after a two-week stay that included the All-Star race and are heading to Long Pond, Pennsylvania, and Pocono Raceway. Here are predictions from the VAVEL NASCAR team on who they think will win this weekend's Axalta 'We Paint Winners' 400.
Standings
This week's picks
Mark Smith
Driver: Brad Keselowski
Reason: "The driver of the #2 Team Penske Ford will get to Victory Lane this week on the Tricky Triangle. I think the former Sprint Cup Series champion will get another win on the 2-mile track but will have some stiff competition from Kevin Harvick, Jimmie Johnson, and team-mate Joey Logano. But Keselowski will have the skill and determination to get the job done this week."
Stevie Larson
Driver: Jimmie Johnson
Reason Johnson is the active leader in wins at the tricky triangle, and he also has the second-best average finishing position. He has 11 top-five finishes and 19 top-10 finishes. While there are a lot of good choices, he is the best pick for this weekend's race at Pocono."
Stephen Furst
Driver: Martin Truex, Jr.
Reason: "Martin Truex, Jr won this race a year ago in a somewhat dominating fashion. He also runs very well at the tricky triangle and missed sweeping the season in 2015 only due to running out of fuel. As he is coming off a dominating win at the Coke 600 where he led all but 8 laps, look for him to roll with his momentum at a track he loves racing at. The 78 will be in victory lane at the end of the day."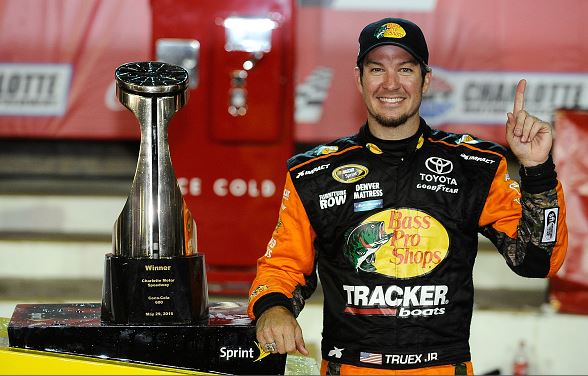 Brandon Farris
Driver: Martin Truex, Jr.
Reason: "Tough choice for this week. Many good options for Pocono. But I think I'll have to go with Martin Truex, Jr. Seems he's finally off the bad luck string and won here last year. But what makes it a challenge is the fact that Hendrick motorsports has shown a lot of success here in years past."