Pocono Raceway has decided to try something new with the July Monster Energy Cup Series race. Instead of having the cars qualify on Friday for a Sunday race, qualifying will be on Sunday morning, with the race on Sunday afternoon.
Cup qualifying is scheduled for 12:05 p.m. ET, just three hours before the green flag is scheduled to drop on the race. NBCSN will broadcast the weekend. The June race at Pocono will have the traditional format of qualifying on a different day than the race.
The format is used in other series'
While this hasn't ever happened in the Cup Series, both the Camping World Truck Series and the Xfinity Series have utilized this format for years. One of the benefits is it shortens the race weekend, which can make a difference for teams who would otherwise be unable to afford to be at a track for the extra day.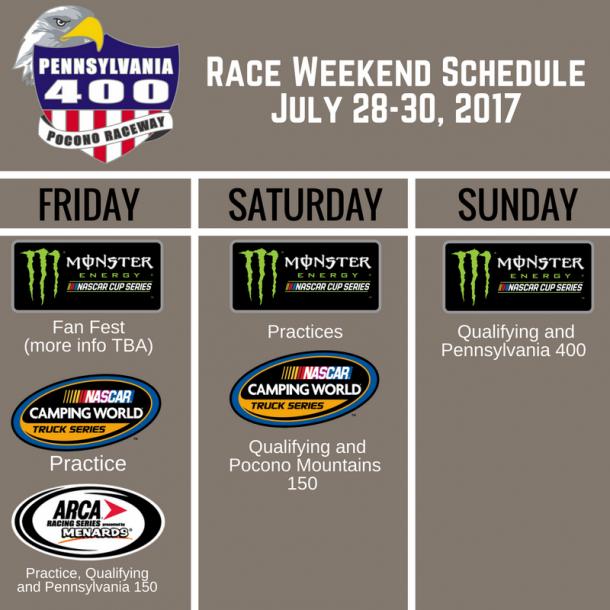 Pocono is the first track to announce this format for the season. Cup cars won't hit the track until Saturday, which is when the practices will be. That will be followed by the Trucks race, which will set up the Cup qualifying and race on Sunday afternoon.
Friday will see the track host a fan fest, as well as practice for the Trucks race. The ARCA series will one-up the Cup weekend, as they will practice, qualify, and race all on Friday. The Xfinity Series will be racing at Iowa Speedway that weekend, with their race scheduled for 3:30 p.m. ET on Saturday afternoon.
Benefits for drivers
Doing qualifying and the race on the same day will benefit drivers who want to run both the Xfinity Series, and the Cup series that weekend, as in the past they have had to forego either Cup qualifying, which is usually held on Friday, or Xfinity Series qualifying, held the morning before the race. This led to these drivers starting at the back of the field. Having it on Sunday will allow drivers who want to do the double to be able to do it without having to miss qualifying for either event.
Chris Buescher is the defending winner of the July race, as last years was postponed to Monday due to rain, then it was shortened due to more rain.