 Racing season returns this weekend with the Daytona 500. Rookie Chase Elliott will start on the pole, with teammate Dale Earnhardt Jr. starting in the second position. Neither of them have won the 500 in their careers, something they both hope will change on Sunday.
Earnhardt Jr. looks to return in style
For Earnhardt Jr., this will be his first race since last July, when he was forced to miss the rest of the season due to a concussion that he suffered at Michigan. Alex Bowman filled in for him during the final half of the season, but Earnhardt Jr. says that he's ready to go. He has never won the 500, although he has won other races at Daytona. Another Earnhardt who had troubles winning the 500 was his father, Dale Earnhardt Sr. He didn't win the Great American Race until 1998, after 20 tries.
Hamlin looks to repeat as winner
Denny Hamlin, driver of the Joe Gibbs Racing 11 car will look to become just the fourth driver to win back-to-back Daytona 500's. Other drivers who have accomplished it are Richard Petty (1973-74), Cale Yarborough (1983-84) and Sterling Martin (1994-95).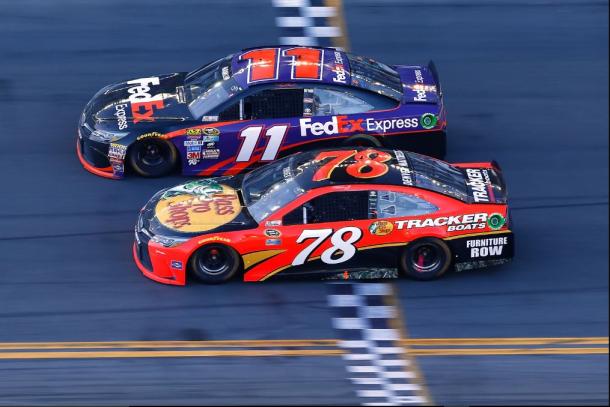 Hamlin won last year's race by just .010 seconds, the smallest margin of victory ever in the race;s history. While he wants to repeat, he probably would be fine with it not being as close as last years.
Logano wins Clash, looks to win both Spring races at Daytona
Joey Logano won the Advance Auto Parts Clash on Sunday afternoon, and while it didn't pay him any points, it did give him momentum entering this weekend. Logano will look to become the sixth driver to win both races in the same season, The last driver to accomplish the feat was Hamlin last year, when he also won the Clash and the 500.
Rookies take aim at historic race
Elliott will lead a pack of rookies who are all looking for a big win to jump start their career. Elliott, along with Chris Buescher, last year became the first rookies to make NASCAR's playoffs as a rookie. The last driver to do that was Hamlin. Other rookies in the field for the race are Ty Dillon, Daniel Suarez, and Erik Jones.
Elliott will start on the pole for the second straight season. His fortunes on the pole look fairly slim, as the race hasn't been won from the pole since Dale Jarrett did it back in 2000. His father Bill won the race from the pole twice during his career.