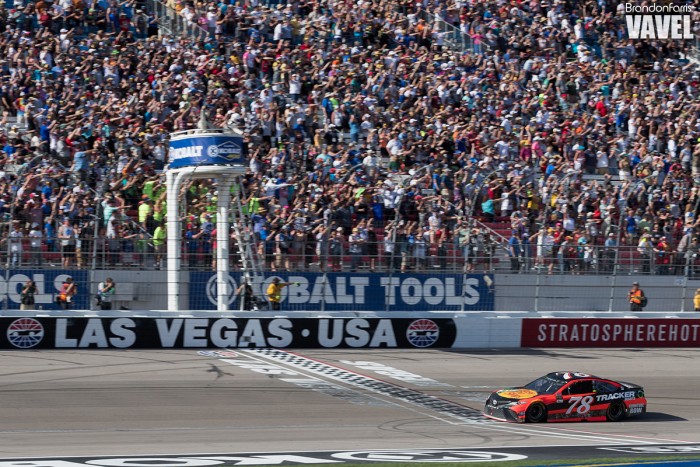 Martin Truex Jr dominates the Kobalt 400 becoming the first driver to sweep all three segments in the new race format en route to his first win of the 2017 Monster Energy NASCAR Cup Series in Las Vegas.
For Truex Jr, it was his eight-career win on Sunday and first ever at Las Vegas Motor Speedway. By far the dominant car of the weekend was the Bass Pro Shops Toyota who qualified second and was the fastest car in two of the three practice sessions on the weekend.
"We definitely had our share of races where we've dominated and gave one away, and it looked like today was going to be another one of those," said Truex, who lost the lead to Keselowski on lap 243 before Danica Patrick lost her engine. "The runs just didn't work out the way we needed them. We were struggling on the really long runs. We had to run that last set of tires on that last caution longer than we did all race long (from Lap 211 until caution for Patrick's blown engine on Lap 252.)
"I was out of control, and Brad was really good on the long run. I hate that he had problems. He was strong and we weren't going to do anything with him, but then he lost the brakes or something. A little bit of a gift, but we've given some away, so it feels good to come out on the good end for once."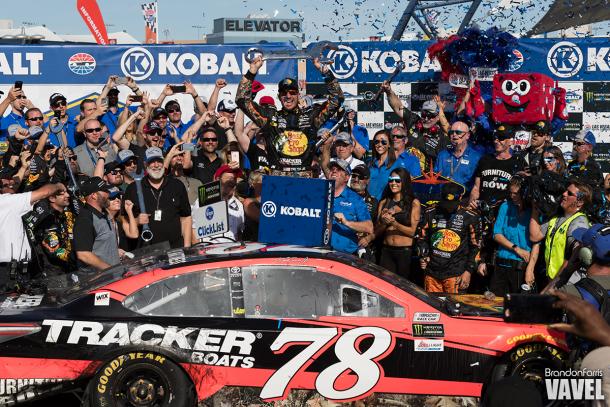 The stages for the Kobalt 400 were 80/80/107 for the 267 lap Monster Energy NASCAR Cup Series event at Las Vegas Motor Speedway. While Truex Jr 150 of the 267 it was looking like Brad Keselowski was going to steal his second win in a row until something broke on the Miller Lite Ford in the final nine laps causing him to have to concede the lead with two to go down the backstretch. After the race, Keselowski wasn't sure what it was that broke but was still gifted with a fifth-place finish after the last lap crash between Kyle Busch and Joey Logano.
"No, they'll have to take it apart," Keselowski said. "At the end, we have to go to inspection and stuff, so we're not allowed to look. I just know it was something major. It wouldn't turn and I lost brakes, so that's a pretty good indicator, but that's the way it goes.
"That's racing and that's why you watch until the end and you never know what's going to happen. It's frustrating, but you put yourself in position to win and good things will happen. That happened to us last week and didn't happen this week, so you just pick up the pieces and move on. Luckily, they're really big pieces. We've got a lot to be proud of."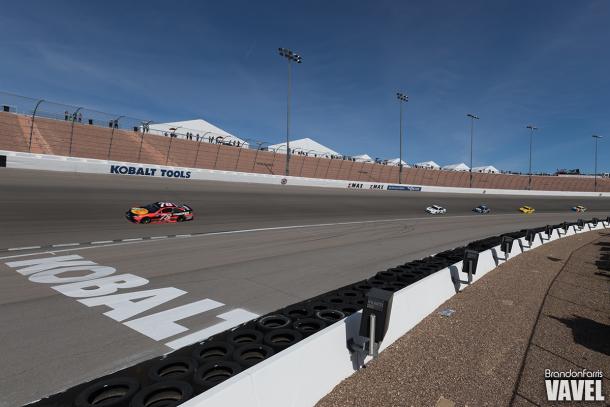 Stage One
In stage one, it was a mostly smooth stage with Keselowski and Truex Jr swapping the lead back and forth several times. But then a late stage caution occurred when Kevin Harvick blew a right front tire in the tri-oval led to some pit strategy by several drivers and placed Logano in the lead. However, being on old tires he was a sitting duck to everyone else that pitted and Truex Jr would go on to pass him four laps to go in the stage.
"It started vibrating about four or five laps there before it blew out, I was just trying to ride to the end of the stage there," said Harvick after the wreck. "Obviously, it didn't make it. The worst part was the medical response. It took them forever to get to the car. I thought we made that better, but obviously we haven't. All in all, our Mobil 1 Annual Protection Ford was running good. We were just too loose right there. It's not like we were even tight, so it either just cut the tire, or came apart or melted the bead."
Stage Two
Much like stage one, the early part of the stage was dominated by Truex Jr until green flag pit stops, however after the stops it cycled back to the #78 Toyota but a late stage caution on lap 153 once again led to a few teams rolling the dice in an attempt to win the stage with just four laps left to go when the green flag dropped.
Jimmie Johnson was one of the drivers to gamble and stay out and gamble, he was fifth when the caution fell and once they went back to green flag racing the #48 was a sitting duck and went from the lead all the way back to 10th place at the end of the stage. Truex Jr surged past the Kobalt Chevrolet and when the green and white checkered flag dropped to conclude the stage he had won the first two stages.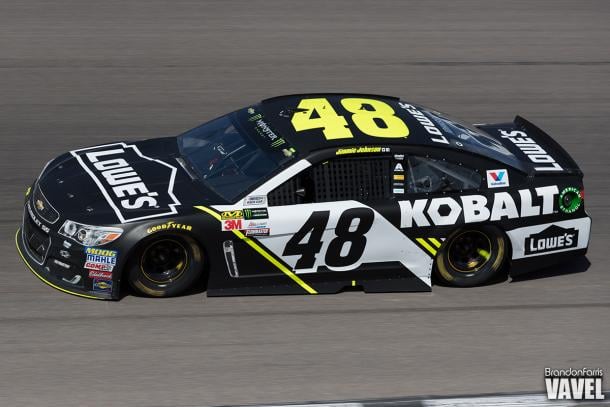 Final Stage
The final 107 lap stage was set, the race went back under green on lap 167 with 100 to go and would stay green for most of it. For the most part, it was dominated by the Truex Jr and other then a little pit strategy attempt by Johnson who would take the lead for 15 laps, Truex found himself back out in front until lap 243 when Keselowski moved past him for the top spot.
But on lap 253 everything would change when Patrick lost her motor heading into turn one and oiled down the track bringing out just the sixth caution flag of the race.
"We adjusted the car to a place where I think we could have got a little more racy with it, especially if we would have caught some breaks, but then it just flattened out," said Patrick after her engine blew up. "I just rode around the top in case I blew up, but having a teammate behind me was not the ideal timing for it, but unfortunately it happened. We'll just move on."
Teams would come down pit road and Keselowski's team would keep him up front and he won the race off pit road with Truex Jr behind him. On the restart with nine to go Keselowski raced side by side with Truex Jr before eventually breaking away, but as they came to two to suddenly the Miller Lite Ford slowed going into turn one and Truex Jr was right there to pass him going down the backstretch.
From there Truex Jr would hold on to the lead and take the checkered flag for the win in the Kobalt 400 as others wrecked out of turn four. Logano went deep and it pushed him up the race track and into the side of the Busch while racing for the fourth position.
After the race was over Busch went to Logano's car and a scuffle ensued between the two racers with Busch coming out with a bloody forehead.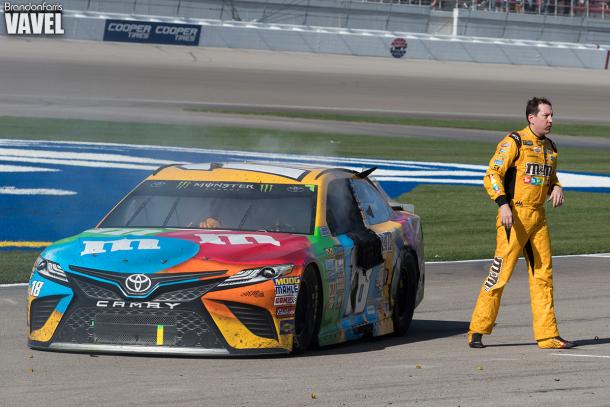 Kyle Larson came home second and while he had a quiet day he was one of the most consistent cars along with Truex Jr finishing stage one in second, stage two in third and stage three in second. It was the third time in the last four races he's finished second.
"Our day was really solid. I think we finished second in the first stage, third in the second stage and then finished second here in the race," Larson said. "So, super happy with how our season has gotten started. Way better than where I've ever started the season. I'm really happy about that, proud of our team. Had fun today. You know, the stages were really exciting, or the ends of them. Because of the way the cautions fell and different pit strategies and stuff, people staying out, made it really exciting.
Keselowski holds a one point lead over Larson heading into Phoenix next weekend followed by Chase Elliot who came home third from the Kobalt 400, Truex Jr and Logano make up the top five in points right now.