 UPDATE
In a statement released this morning, Richard Petty Motorsports announced that Almirola suffered a compression fracture of his T5 Vertebrae, and was released from a Kansas hospital this morning. He will fly back to North Carolina today and be evaluated by his doctors next week.
-------------------------------------------------------------------------------------------------------
Original Story
Aric Almirola has been airlifted to a local hospital following a hard wreck on Lap 200 of the GoBowling 400 at Kansas Speedway on Saturday night. There was no other immediate word on his condition.
What happened
The crash occurred in turn two when Joey Logano had a part break in his car, and he hooked Danica Patrick, sending both of them into the wall. Almirola slid into the wreck, and struck both cars, sending his into the air and leaving Patrick's car in flames.
Both Patrick and Logano walked away from the crash, and both were checked and released from the infield care center. Safety crews removed Almirola from his car, and he was airlifted to the University of Kansas Medical Center for observation.
The drivers speak
"Something broke on my car," Logano told FS1 after being released. "The right front popped and it took a hard left. I just hope that Aric's alright. This is the last thing you want to see is a big hit for anyone.
"Everything was fine and it just took a hard one. I'm praying for Aric right now. There's nothing I could have done."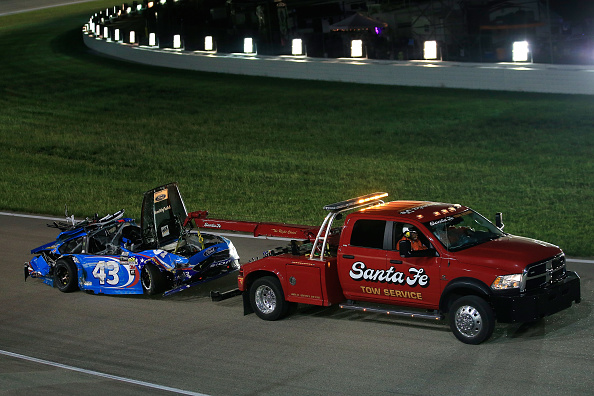 Patrick took a different tone with her interview, choosing to focus on her bad luck, saying "I just don't understand why so much bad luck happens. Besides that, I feel physically fine.
"On the other hand, I was having a really good night and that's what makes me the most mad. Every time I'm doing better, something stupid happens and it's just killing me.
"I hope Aric's okay, he's definitely feeling the worst of everybody. NASCAR does everything it can to make our cars safe as possible, but things happen."
We will update this article as more information is available.