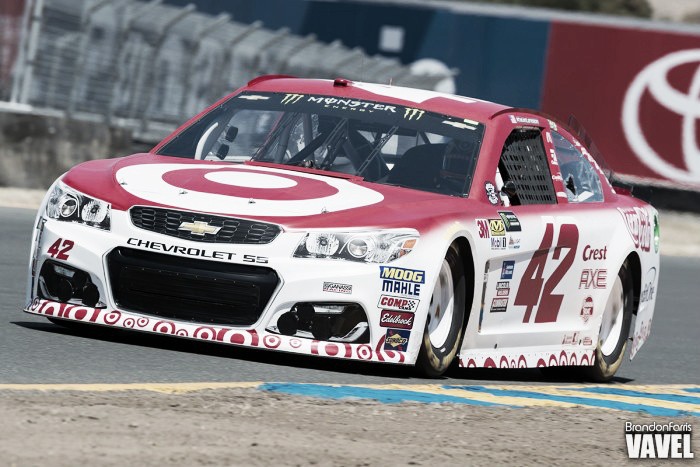 Kyle Larson won his third Coors Light Pole Award of the season on Saturday afternoon at Sonoma Raceway. His No. 42 Chip Ganassi Racing Chevrolet will start Sunday's Toyota Savemart 350 from the first position.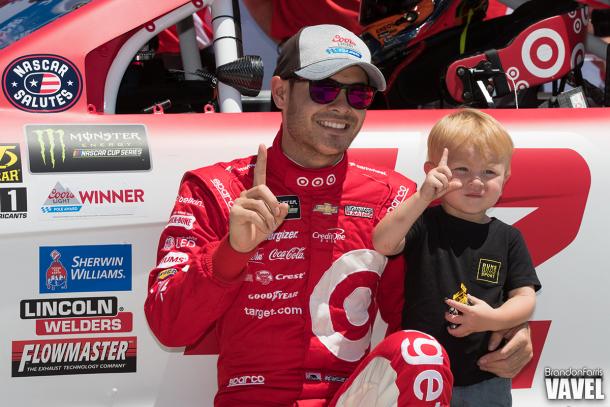 "It feels good," Larson said of his final qualifying lap, which secured his third pole of the season, his first at Sonoma and the fourth of his premier series career. "This is my home track, I grew up about an hour and a half from here. So, I spent a lot of time in Napa Valley hanging out with (fellow racer) Rico Abreu and the Abreu family, so, always love coming to Sonoma. It's a fun place and our race cars are always fast. I felt like I've had a shot at the pole every time I've qualified here and just haven't gotten the job done."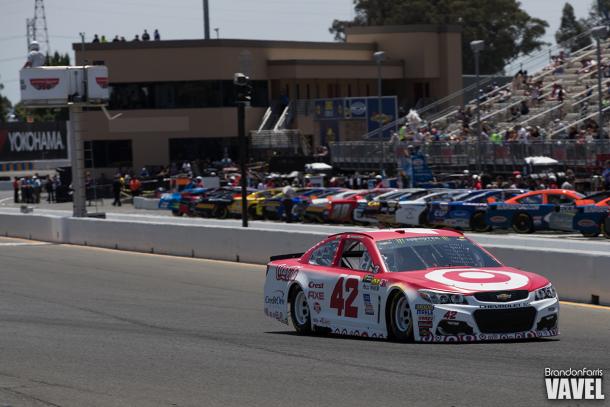 Larson ran a lap of 75.177 seconds averaging a speed of 95.295 mph. This is his fourth career pole and first ever at Sonoma Raceway in four career starts, however, Larson has never qualified any worse than fifth, but has never finished any better than 12th in his three previous career starts in Wine Country.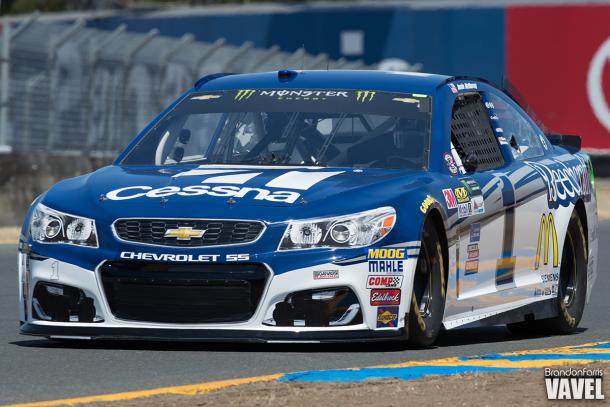 Starting on the front row with Larson with be Chip Ganassi Racing teammate Jamie McMurray making his fifth career front row start in Sonoma. He ran a lap at 75.249 seconds averaging 95.204 mph.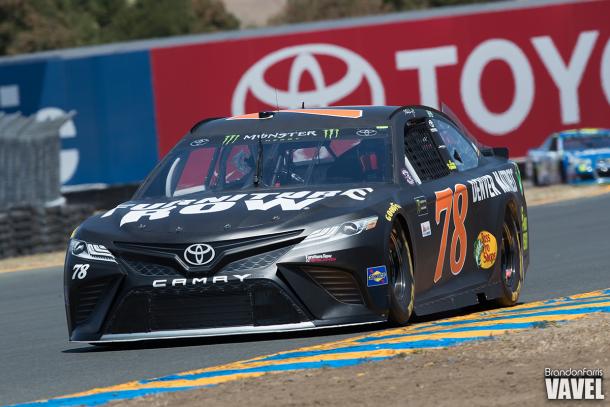 Martin Truex Jr, who was the fastest in the first practice session on Friday qualified in the third position running a lap of 75.453 seconds averaging 94.947 mph in his Furniture Row Toyota. Kyle Busch qualified fourth in his M&M's Caramel Toyota and AJ Allmendinger wrapped up the top five in his Kroger ClickList Chevrolet.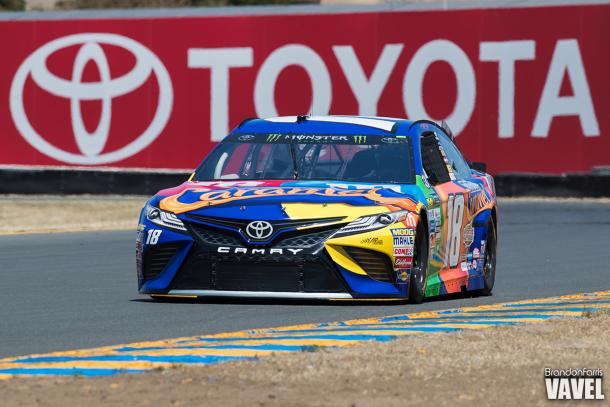 The highest qualifying Ford was Danica Patrick in the sixth position which is the best qualifying position in her Monster Energy NASCAR Cup Series career and the best start in series history by a female competitor at Sonoma Raceway. The previous record was 11th also help by Patrick in 2016 and 2014.
Chase Elliot, who was the fastest of the first qualifying session ended was only eighth fastest in round two, having lost sixth tenths of a second on his second lap compared to the first round. Even had he won the pole though it wouldn't have mattered after he wrecked his Kelly Blue Book Value Chevrolet in final practice on Friday and was forced to a backup car requiring him to go to the rear of the field.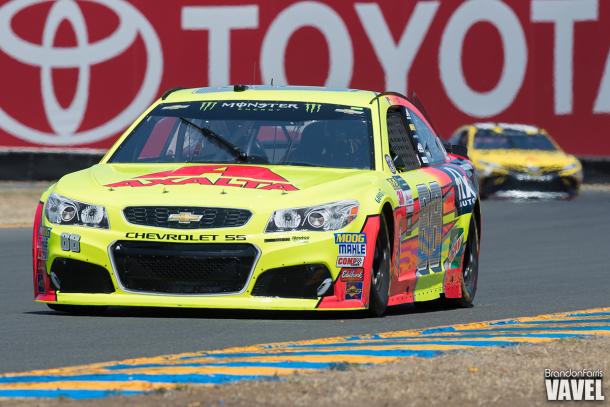 Making his final career start at Sonoma Raceway this weekend is Dale Earnhardt Jr who qualified in the 10th position in his Axalta Chevrolet. The highest qualifying rookie was Daniel Suarez in 11th.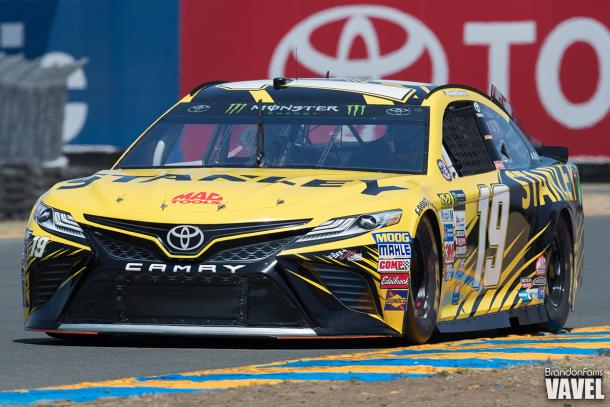 Last year's runner-up Denny Hamlin qualified in the 14th position. Defending Series champion Jimmie Johnson qualified in the 24th position.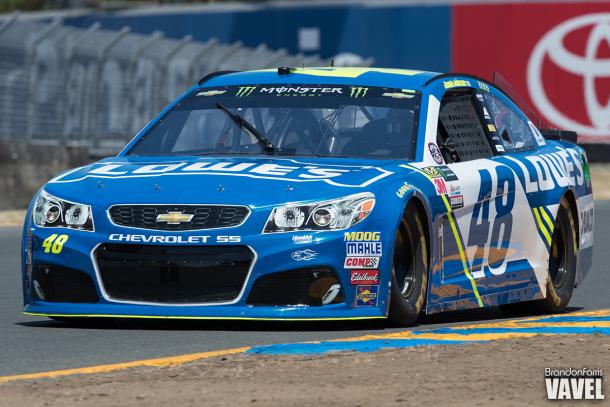 Matt Kenseth failed to post a qualifying time and will start last on Sunday, however, Kenseth was already starting in the back after he broke an oil pump in Friday practice session.
The green flag for the Toyota Savemart 350 drops on Sunday afternoon just after 3:00 p.m. ET. It will be broadcast on FS1.