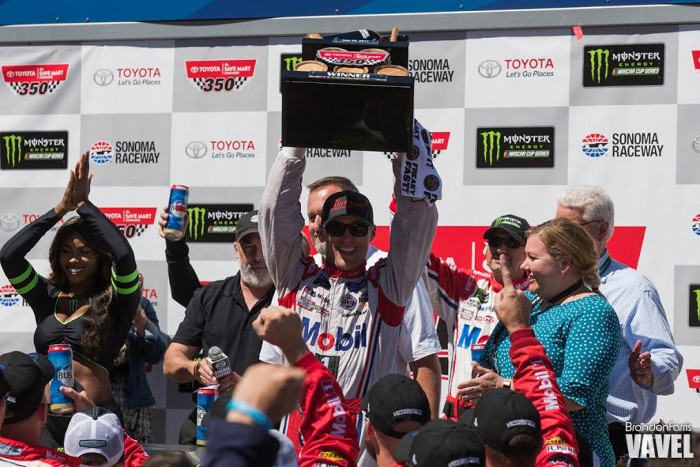 Stewart-Haas Racing's Kevin Harvick won the Toyota Savemart 350 on Sunday afternoon at Sonoma Raceway, his first win of the season. The win guarantees him a spot in the season-ending Chase for the Sprint Cup.
Ford took the first three places, with Harvick's teammate Clint Bowyer finishing second and Penske's Brad Keselowski following in third.
In a race with remarkably few cautions – other than those ending each stage – the race still contained plenty of incidents, including a race-ending engine blow-out for stage one winner Martin Truex Jr.
The win was the second for Stewart-Haas Racing since making the switch to Ford, the first coming in the season-opening Daytona 500 for Kurt Busch, and Harvick admitted that it has taken a lot of effort for the team.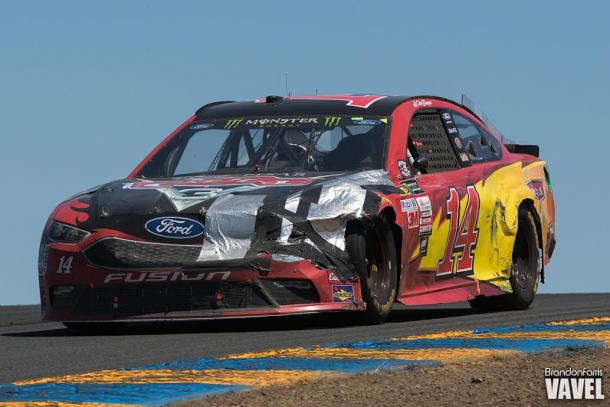 Speaking to Fox Sports after the race Harvick said: "It's been a lot of work. The guys have put in a lot of hours, and it's paying off. I feel like we have a lot of room to grow.
"For us, it's been OK. We've been competitive, we just hadn't got to Victory Lane. I felt like we've had a couple of opportunities to get there, but just came up a little bit short, so this is worth the wait."
It was Harvick's first Monster Energy Cup Series win at the popular road course and came hot on the heels of him winning the K & N series race there the previous day.
Truex looks certain to be dominating the points in the playoffs
This first stage was dominated by Truex, who never looked back once he had passed Kyle Larson for the lead on lap 10 until a caution saw him pit with 11 laps left in the stage, and saw him down in 11th place after the restart, with many of those in front of him on older tires.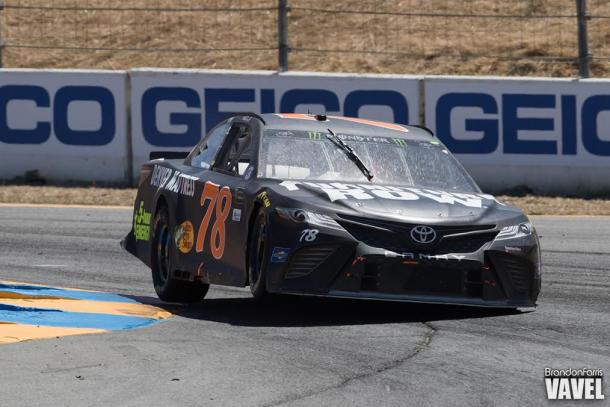 But Truex ran them all down in quick succession, before snatching the lead back from the always impressive road course driver AJ Allmendinger three to go in the segment.
The Furniture Row driver has notched up a massive 21 Play-Off points – thanks to two race wins, and a whopping 11 stage wins – five more points than his closest rival, and stage two winner at Sonoma, Jimmie Johnson, who recently signed a contract extension to stay at Hendrick, who has 16.
He has almost three times more stage victories than anyone else but was unable to add to his tally when his engine gave up after 86 laps, with the New Jersey driver admitting he had been running on just seven cylinders for a number of laps before that.
With strategy playing a huge role in the race – the first road course race to contain stages – the running order was constantly being shuffled, as some drivers decided to pit two or three laps before the end of a stage, those in with a sniff of stage points electing to stay on track until the stage ended, and others not pitting at either time.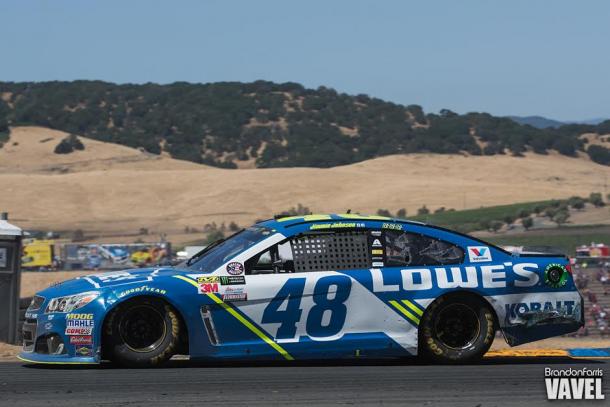 Johnson stealthily made his way through the field from mid-pack in stage two, and when a debris caution came out on lap 39, crew chief Chad Knaus made the call to leave his driver out when the leaders pitted, and the #48 Hendrick Motorsports driver was never headed for the remainder of the second stage after restarting in the lead.
Love hurts as Danica inadvertently wrecks boyfriend Stenhouse Jr
Although there were relatively few cautions in the race, it still had plenty of fender rubbing, spins, and wrecks, none more so than when Danica Patrick tangled with Dale Earnhardt Jr, causing her to spin around and straight into the path of the oncoming Ricky Stenhouse Jr.
It was Patrick's second clash with Dale Jr in the race, the first leading to a spin for the #88 car, although both drivers were able to continue relatively unscathed.
Stenhouse Jr was not so fortunate though, as the front wing was ripped apart, and although his car limped around to pit lane, the damage was too extensive for the Rousch Fenway driver to continue.
NASCAR, who has been under a bit of pressure recently, after drivers and teams openly complained about the number of debris cautions that they have thrown late in races, deserve some credit for allowing the race to stay green in the latter stages, despite some spins and crashes that could have seen yellows waved.
As Harvick majestically stretched his lead in the final segment and streaked away to win by over eight seconds from second placed Bowyer, some fans may have been craving a late caution to bring about a close restart – and probably further cautions – to build up to an exciting climax, but it wasn't to be.
Sometimes, it seems, NASCAR officials are in a no-win situation.
It's back to Daytona and restrictor plate racing next week for the Coke Zero 400 night race on Saturday, which sees the return of NBC television coverage for the remainder of the season.