 The NASCAR Monster Energy Cup Series has reached the halfway point of the season, and are heading full steam into the Daytona International Speedway for the Coke Zero 400 this weekend. This will be the first race of the season that NBC will be broadcasting, as they are taking over tv rights for the rest of the season.
Weekend Schedule (All times Eastern)
THURSDAY, JUNE 29
3:00 p.m. – First practice (NBCSN)
5:00 p.m. – Final Practice (NBCSN)
FRIDAY, JUNE 30
4:10 p.m. – Qualifying (NBCSN)
7:30 p.m. – Xfinity Series race (NBCSN)
Saturday, July 1
7:30 p.m. – Monster Energy Cup Series Race (NBC)
News and Notes
- The big story so far this season has been the parity among drivers, as in the first 16 races of the season, there have been 11 different winners. Among those drivers who have not won a race this season are Kyle Busch, Matt Kenseth, Denny Hamlin, Dale Earnhardt Jr., Jamie McMurray, and rookies like Chase Elliott, Erik Jones, and Daniel Suarez. Those three have a great chance to win this weekend, as restrictor plate tracks tend to have some surprise winners.
- This could possibly be the final NASCAR Monster Energy Cup Series race at Daytona for Dale Earnhardt Jr., who is retiring after this season, though he has left the door open for him to run future Daytona 500's. In his career at restrictor plate tracks, he has 10 wins, including four at Daytona.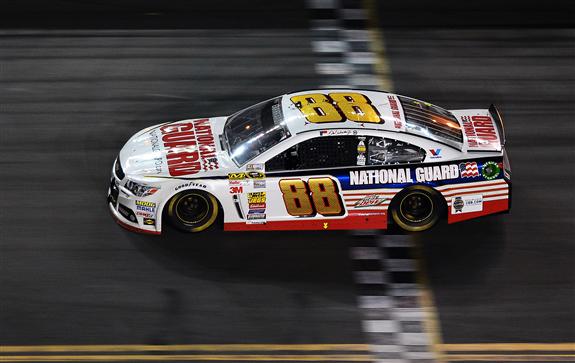 "I am just retiring from full-time racing," Earnhardt said before the season. "I am going to run some Xfinity races next year. I don't know that I won't ever run the Daytona 500 again if the right deal comes along. All these tracks you have memories at all of them, Daytona included."
- Kurt Busch is looking to become the first driver since Jimmie Johnson in 2013 to win both Daytona races in a season. Busch, the winner of the Daytona 500, is third among active drivers at the track in driver rating (90.6), and average finish (15.2). If he is successful, he would become the sixth driver to sweep the season, a group that includes Bobby Allison (1982), LeeRoy Yarborough (1969), Cale Yarborough (1968), and Fireball Roberts (1962).
- The momentum heading into this weekend has to belong to Kevin Harvick, who is coming off a win in the Toyota Savemart 350 last weekend at Sonoma. He now has won races in eight consecutive seasons. He enters the weekend third in points, just 111 behind Kyle Larson, who leads the points. In 32 starts at Daytona, Harvick has two wins and nine top-five finishes.
- Kyle Busch, who is already without his regular crew chief Adam Stevens due to a four-race suspension for a tire violation at Dover, will be without interim crew chief Ben Beshore this week, as the No. 18 team is being penalized for a lug nut violation following the Sonoma race. Team engineer Jacob Canter will serve as the crew chief this weekend, according to Joe Gibbs Racing.
- The announcing crew for this weekend will include Rick Allen (PBP), Jeff Burton, and Steve Letarte. The pre-race show will be hosted by Krista Voda, with Dale Jarrett and Kyle Petty contributing. This will be the third year that NBC broadcasts NASCAR races since the current contract went into effect.