 1. Kyle Busch owns Bristol
He may be a hate figure to many, but Kyle Busch is the undisputed champion of Bristol Motor Speedway.
The fact that his sweep of victories in all three series' this weekend at the track was only the second time in NASCAR history that it has been done would suggest that he is one of the best to ever grace Thunder Valley. The fact that he is also the driver that did it the only other time too, confirms it.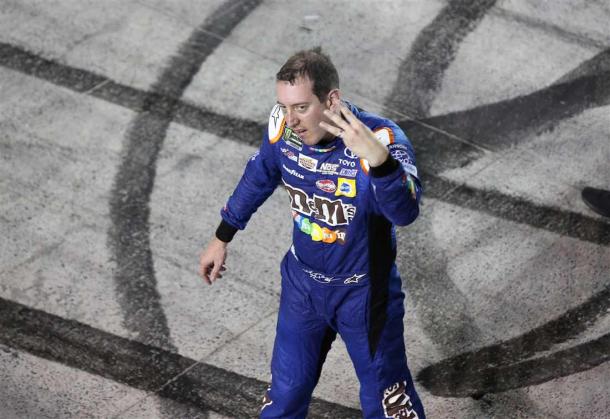 People can question his attitude…or his temper… or his self-confidence, but what nobody can question is that he is an exceptional driver.
After Joe Gibbs Racing's worries in the first half of the season, now that they have found the winning formula again, regardless of how many points he may be trailing Martin Truex Jr by when the playoffs begin, Busch will be a serious contender to claim his second Championship.
2. VHT, PJ1, Trackbite works at Bristol
Call it what you will, but the resin that NASCAR applied to the concrete at Bristol this weekend worked.
The bottom of the track was – in days gone by – the undoubted racing line. You were either on the bottom, or you were nowhere.
That changed in more recent years, with drivers migrating to the top, circling round next to the wall, creating too much 'follow the leader', and not enough racing.
NASCAR's decision to apply VHT to some tracks is another sign that they realise that work is needed to make the races more exciting, and hats off to them, they can never be criticised for trying to be proactive in making changes during a season – take last year's decision to progressively reduce the spoiler heights – in order to accomplish better racing.
While they have tried applying it to other tracks with varying levels of success, the decision to apply it for this weekend's Bass Pro Shops NRA Night Race was a rip-roaring success.
The drivers were on the bottom, round the top – and in some instances 3-wide – all night. On top of that, they were able to make passes both underneath and outside of the car in front, which all added to the excitement, whether it was passing leaders, passing lapped cars, or using said back-markers as a 'pick'.
3. Martin Truex Jr is human after all
After trying to prove otherwise, it appears that Furniture Row's Martin Truex Jr is human after all!
After dominating the premier series in 2017, and winning stage after stage, and race after race, while leading a multitude of laps in the process, this weekend finally proved that the 37-year-old New Jersey driver is not infallible!
Having started in the sixth position, and while threatening the leaders in the early stages, Truex had – by his standards – a nightmare of a race.
He didn't win the race. He didn't win a stage. In fact, he didn't even lead a lap.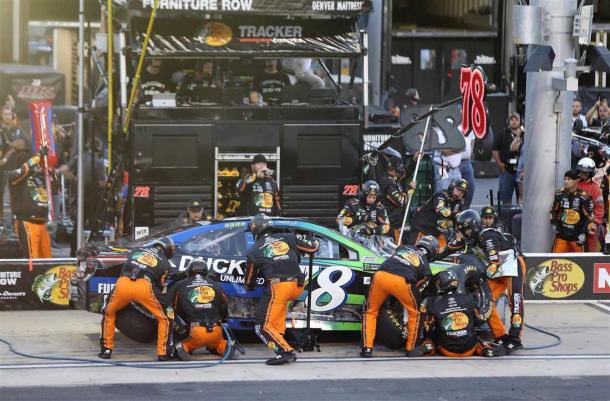 During a caution on lap 202, Truex came to pit road to change tires. However, believing he had a loose wheel, he brought the #78 car back to pit road as the field went back to green. To compound things, he was then flagged for a tire violation, meaning he had to perform a drive-through penalty.
The result was that he found himself multiple laps down, and his race was effectively over.
4. Like it or not… Stage racing works
It has had its critics since its inception, but like it or loathe it, stage racing is working.
It was enacted to increase excitement during the early and middle parts of a race, and was met with much derision from traditionalist fans – many of who have not yet come to terms with playoffs in the sport.
However, if that was its remit, then it is safe to say that it has done exactly what it was prescribed to do.
The intensity of the racing at the end of races is what makes NASCAR the sport it is. Now we have that same level of intensity throughout.
The racing between Erik Jones and Kyle Busch to claim the stage one win was simply sensational. Putting the bumper to the car in front is part and parcel of Bristol racing, but it is usually reserved for the latter stages of a race.
Not any longer! Former champion Busch, and impressive rookie Jones were driving right at the limit of their abilities, as the race lead changed numerous times on the final 20 laps of the segment.
Bearing in mind that this was all taking place prior to lap 125 of a 500 lap race, and it is safe to say that fans in attendance certainly got their moneys worth.
5. Sadly, Dale Jr is limping into retirement
Since Dale Earnhardt Jr announced that this was to be his final year as a NASCAR driver, his fans around the world have been in mourning.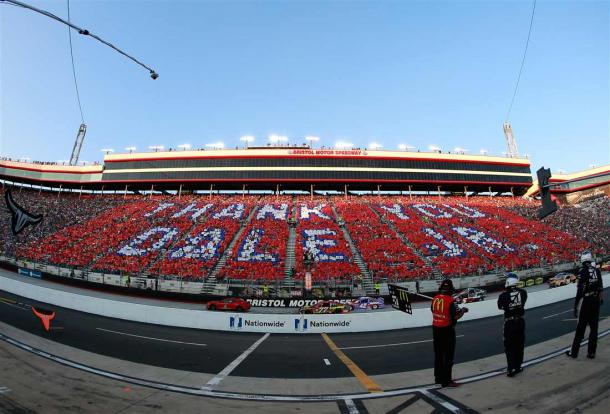 However, once it had sunk in that this was really going to happen, Junior Nation has been hoping and praying for the sport's most popular driver to bow out in a blaze of glory with some race wins and – to the hopes of many – a Championship to make it the ending of all endings.
Sadly, the reality has been anything but glorious.
Week after week he has struggled with his car, and week after week the only time he is picked up by the tv cameras racing the leaders is when he is fighting to stay on the lead lap.
It is not what he wanted… it is not what his millions of fans wanted… and to be honest, it is not what NASCAR wanted.
The cynics will say that his head is no longer in the game; that he has lost his drive and focus; or that he is still wary of another accident like the one that led him to miss races last season due to a concussion.
The reality is, however, that his team has simply not been up to the task. His car seems to frequently have the wrong set-up, and his crew chief has simply gone the wrong way with the changes during transitional phases mid-race.
It is painful to watch at times, as we see him being lapped, or involved in a mid-pack wreck that sees him more frequently interviewed outside the Infield Care Center than in Victory Lane.
Being the man that he is, he will fight until the bitter end, but it is far from the fairytale scenario that the romantics had scripted.