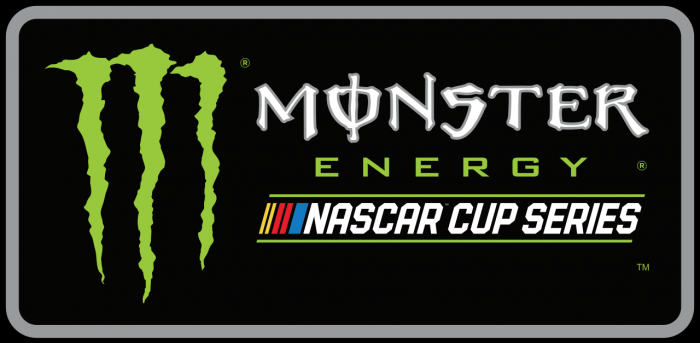 Chase Elliott – Hendrick Motorsports #24 Chevrolet
Of the three drivers currently occupying the final play off positions, without having secured a win to cement their place, Chase Elliott is sitting most comfortably.
That said, he will still maintain a nervous gait as he walks around the garage area at both Darlington and Richmond.
Sitting at the head of the winless drivers, he is in the box-seat. With three spots currently available and only two races to go, he will still be hoping for a win, but he will have to take no chances.
He cannot afford to have a disastrous – or even semi-disastrous – finish in either race, with his closest rivals to have a good run.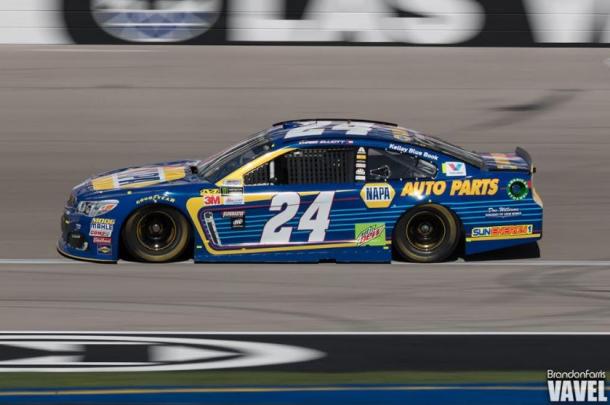 He will also be hoping for a repeat winner, should it not be himself in victory lane, as a win for someone outside the already play off bound drivers, and only an eight and 11 point buffer to the two drivers behind him, could spell disaster.
However, with a couple of consistent drives, he probably has the best chance of those bubble drivers to make the big show.
Matt Kenseth – Joe Gibbs Racing #20 Toyota
Matt Kenseth did not have the greatest of starts to the season. But he was not alone in that, as all the Joe Gibbs Racing teams struggled throughout the first half of the year.
Yet over the last few weeks, Kenseth has looked the most likely of the bubble drivers to pick up the win he needs to guarantee his play off spot.
His turnaround in fortunes seems to have coincided with the news of him leaving JGR being made public, and it would appear that the burden of keeping the news 'in team' was weighing heavily upon his shoulders.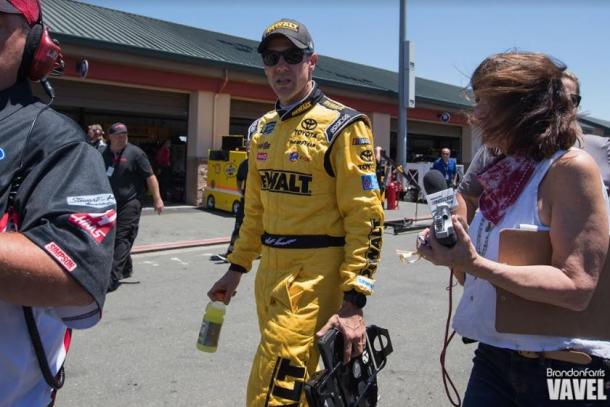 Kenseth has won at both Darlington and Richmond – one at the former and two at the latter – and will fancy his chances of picking up another in 2017.
Failing that, he will also be hoping for repeat winners, but if two new winners are crowned – and one of them isn't himself or Elliott – he will find himself on the outside looking in unless he can overhaul the eight point difference between him and the Hendrick Motorsports driver.
The smart money would be on him making it, but with two tracks that, historically, are very difficult to drive and contain a lot of cautions and wrecks, anything can – and probably will happen.
Jamie McMurray – Chip Ganassi #1 Chevrolet
It has been a strange season in many ways for Jamie McMurray in 2017.
He has had the unenviable task of partnering one of the season's outstanding performers, Kyle Larson.
As such, he will feel under constant pressure to achieve similar success as his teammate, and although he has looked on the verge of doing so in several races, he has never quite got over the line.
The result of the built-up pressure is that we have seen a much more aggressive and risk-taking McMurray to that of previous seasons. He has made bold moves that border on crazy and has been at fault for a number of on track incidents and wrecks that have angered a number of drivers throughout the garage.
With his seven wins coming at only four tracks, the Joplin, Missouri native must be looking to make either Darlington or Richmond his fifth.
Although he is still sitting in the final play off spot as it stands, and with a semi-comfortable 58 point gap to the next driver, he looks to be sitting pretty. But a win for one of those drivers outside the play off positions, and everything changes.
The result will be that, realistically, while trying to win, and eliminate any more pressure, he will most likely be racing Kenseth and Elliott, and trying to overhaul the 3 and 11 points respectively.
With the new segment racing, there are plenty of points available to do just that, but it is essential that he has a good car that can drive up front throughout, picking up good stage points in the process.
His chances should be rated at 60-40 in his favor, but it will depend on who wins as much as on his own performances.
Clint Bowyer – Stewart Haas Racing #14 Ford
Being the first driver outside the play off bubble looking in, Clint Bowyer has the least to lose of the driver listed so far.
He knows exactly what, realistically, he needs to do to make it in – win!
Barring an unexpected pair of unmitigated disasters from one or two of the drivers above him, partnered by a pair of top five finishes for himself, there is little chance of the popular driver pointing his way in.
In some ways that makes Bowyer more dangerous than ever. He has nothing to lose and everything to gain from putting the pedal down and just going all in of the win.
His gung-ho approach will make other drivers wary of him, as they will surely be aware that he is driving with only one goal, that being taking the checkered flag.
He certainly has the machinery available to do it, with the Ford engines looking stronger as the season goes on, and the early season struggles of the team to get to grips with the new manufacturer on board seemingly behind them.
He is definitely an outsider to make it, but he will definitely be fun to watch as he tries.
Joey Logano – Penske #22 Ford
If any of the drivers has a point to prove, it is Joey Logano.
Logano has a win this season, yet due to infractions of the rule book in terms of unauthorized modifications to the car, that win was 'encumbered', and therefore, ineligible to be carried forward to the play off standings.
Since that point early in the season, he has struggled to find any form and has rarely looked like getting another win.
His frustrations often get the better of him, which often result in conflict with other drivers both on and off the track. Some drivers, like Kyle Busch, relish the boos and the apparent hatred from the fans, and although Logano insists that the negative reaction from the grandstands merely motivates him to perform, his actual performances suggest otherwise.
With two previous wins at Richmond, he may well be looking at that one being the one to get his desperately needed win, but with his underperforming season so far, it would appear to be the longest of long-shots.
Erik Jones – Furniture Row #77 Toyota
Rookie Erik Jones has looked better and better as the season has gone on. His form has already secured him a drive for JGR – replacing Matt Kenseth in the #20 car – and has prompted many pundits to say he is a "champion in the making".
He has looked threatening in recent weeks and appears one to be the most likely of the drivers outside the play offs to get a win.
However, Darlington and Richmond are two tracks that take time to master, and it would be a fantastic achievement for the youngster to pick up his maiden victory at one of the two.
It may be that this year comes just too soon for him, but he will undoubtedly be a contender next year, and for many more years to come.
Daniel Suarez – Joe Gibbs Racing #19 Toyota
Like his fellow rookie, Daniel Suarez has looked better throughout the season. He has had some consistent runs of late, but – unlike Jones – while flirting with the front of the field, he has never quite looked like taking a win.
It is not beyond the realms of possibility that he could find his way to Victory Lane in the next two weeks, but realistically, Suarez is a work in progress, and he is probably building towards a play off run next year.
Dale Earnhardt Jr – Hendrick Motorsports Racing #88 Chevrolet
His driving has been below par this season. His car has looked way off the pace in every race other than plate races this season. His set ups have been wrong at 90 per cent of the races this year. But in his swansong year, write Dale Earnhardt Jr off at your peril.
With only two races left until the play offs in his final season, you can guarantee that the crowds at each of them will be blowing his car down the home straights to try and get him the extra speed he will need.
If he were to miraculously make it through, there would be barely a dry eye in the house.
But in reality, the sport's most popular driver has little or no chance to make it.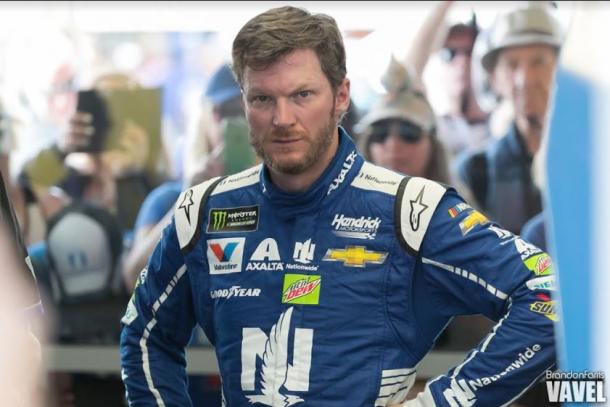 He looks off the pace in the car, and it begs the question of whether, subconsciously, he has the stomach for the fight, as he is crawling towards the end of his career.
It is not the scenario that he, or his legions of fans, wanted, but it is what it is.
How much of this is down to married life, or how much is down to the concussion that sat him out of much of last season, remains to be seen, but it is sad to see him limping into retirement instead of going out with the roar he was undoubtedly hoping for.