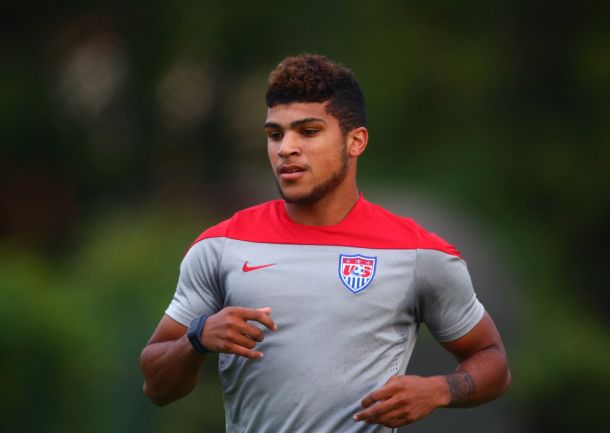 The Seattle Sounders Football Club is entering July right where they want to be in the Major League Soccer standings with a ten-point lead in both the Western Conference and Supporters' Shield races. While the club is looking good in the standings, on the field it is a very different story. Seattle could be without as many as five starters when the team takes the field on Saturday night for Round 4 of the 2014 Cascadia Cup at BC Place against the Vancouver Whitecaps.
They will be without the central midfield tandem of Osvaldo Alonso and Gonzalo Pineda who will both be suspended for the match due to yellow card accumulation. It will be the first match that Alonso has missed this season having played all but eight minutes of the Sounders regular season to this point.
Pineda has also been a very welcome addition to team since seeing his first action after Brad Evans picked up an injury in the second match of the season. The former Mexican international has played all but one minute since he made his debut. He has been a perfect fit with Alonso in the center of the park for Seattle this season. Seattle will be losing out on 2,752 minutes of action with the absence of Alonso and Pineda.
Seattle will also be without starting center-back Djimi Traore who will miss the match due to injury. It was at BC Place during the Sounders' last visit when Traore picked up his injury, a strain of his right adductor muscle. At the time, Sigi Schmid and the Sounders organization were not sure how long Traore would miss but he looks to be getting close to game-ready.
Sigi Schmid was asked this week about the status of United States Men's National Team players Clint Dempsey and DeAndre Yedlin after the US was eliminated from the World Cup this past Tuesday. The manager said there is an outside chance that Yedlin and Dempsey would be available for selection this weekend but that both players would likely be given some more time off before rejoining the club. Yedlin was in New York on Friday morning making the talk-show rounds just increasing the likelihood of his absence.
The Sounders will be getting an addition into the squad going into the match as Obafemi Martins will return after serving his one-match suspension for the red card picked up in the last match before the FIFA World Cup break. There were rumors that because he would miss the DC United match last week, that Martins would see some action in one or both of the US Open Cup matches during the past two mid-weeks. Sigi Schmid decided to honor an agreement made with Martins for time off during the World Cup break.
Starting Lineup Forecast
GK: Stefan Frei (16 appearances; 11 wins, 2 draws, 3 losses; 1.44 goals against average)
RB: Jalil Anibaba (7 appearances; 481 minutes played; 0 goals, 1 assist)
CB: Chad Marshall (15 appearances; 1,350 minutes played; 1 goal, 2 assists)
CB: Zach Scott (6 appearances; 363 minutes played; 0 goals, 0 assists)
LB: Leonardo Gonzalez (11 appearances; 770 minutes played; 0 goals, 0 assists)
RM: Lamar Neagle (15 appearances; 1,167 minutes played; 5 goals, 4 assists)
CM: Brad Evans (11 appearances; 737 minutes played; 0 goals, 1 assist)
CM: Michael Azira (7 appearances; 245 minutes played; 0 goals, 0 assists)
LM: Marco Pappa (14 appearances; 906 minutes played; 1 goal, 2 assists)
FWD: Obafemi Martins (15 appearances; 1,290 minutes played; 8 goals, 6 assists)
FWD: Kenny Cooper (15 appearances, 669 minutes played; 3 goals, 4 assists)
Prediction
Vancouver Whitecaps 3, Seattle Sounders FC 2. Both teams enter the match with a long runs of good form; Seattle has lost one match in their last 12 league matches while Vancouver has lost one match in their last nine league matches. There will be goals in this match if it sticks to the trend during Cascadia matches this season, 19 goals have been scored total in the three matches between the Pacific Northwest rivals this season. Vancouver is on top of the Cascadia Cup standings with 4 points while Seattle is hot on their tail with 2 points.
The Vancouver Whitecaps are a very young team with skill and pace. They are very exciting to look which will make this game that much more entertaining for neutral support.
Notes
It seems that the play of DeAndre Yedlin at the FIFA World Cup turned some heads around the world. There have been reports linking the Seattle native to Anderlecht in Belgium as well as Roma or Genoa in Italy. Whether or not these rumors are true, we will see throughout the summer. General Manager Adrian Hanauer said this week that team would "like to keep him" and that "economics will likely drive the decision."
My thoughts on the rumors are that Seattle will do whatever they can to keep Yedlin on the squad not just because of his youth and potential growth but also because of his roots to the city of Seattle. Yedlin is a home-grown player who came up through the Sounders Academy and played for the PDL Seattle Sounders U-23s before being signed to the first team before the 2013 season.
Check back in with VAVEL USA on Sunday morning for my match recap of this key Cascadia Cup match. Also keep an eye with us next week as I am planning to cover at least one of the Sounders-Timbers matches live. I will update that news on my twitter page (@tenorman85) when that information becomes available.