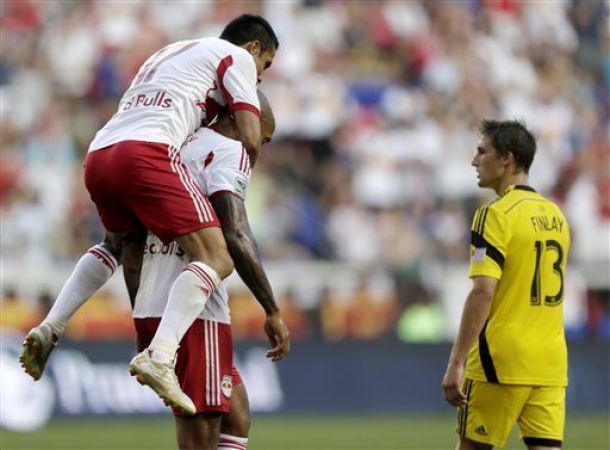 Not only does Red Bull give you wings, but it gives you wins as well. The New York Red Bulls defeated the Columbus Crew by a score of 4-1 in New York this weekend. With goals galore from the team, an individual performance put on by Thierry Henry edged his name into the record books. Having assisted on 3 goals, and scoring one of his own, Henry now sits at 37 assists which makes him the club holder for New York. Meanwhile, he also holds the most assists in the league this season at 9.
New York wasn't going down without a fight, but got a scare when Ben Speas hit one with his right foot only 3 minutes into the match. Moving along, Bradley Wright-Phillips knocks in his 10th goal of the season in the 17th minute. Henry gets the assist. In the 25th minute of play, Columbus forward Jairo Arrieta was substituted with what appeared to be a hamstring injury. A 6'7" replacement of Adam Bedell took his place, and around the 39th minute, got his first career goal for Columbus as he hits the ball on a volley from central forward Federico Higuain. Bernardo Anor picked up a yellow card before the tie was quickly taken away when Thierry Henry scored just before halftime.
Into the second half, Lloyd Sam got his name on the score sheet as he shot one past Crew keeper Steve Clark. With New York ahead by two goals, Columbus had to fight back. As the game was about fifteen minutes away from the finish, Red Bull keeper Luis Robles picked up a yellow card for time wasting. Still, Columbus needed to get back in this. More yellow card cautions were given out to Columbus' Tony Tchani. And one minute later, Bernardo Anor picked up a straight red. Columbus were then down to 10 men. New York quickly took advantage of being up a man and Eric Alexander scoredin stoppage time of the game to put the Red Bulls ahead, 4-1. This sealed the deal.
New York, who now has five points out of their last three regular season games, look to continue their run against the Union next Wednesday. And Columbus, who has only 1 win in their last 5 regular matches look to turn this drought around and push for a postseason spot.