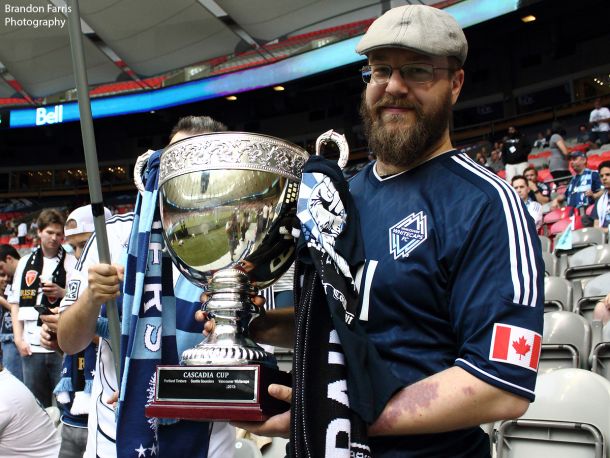 The fifth installment of the 2014 season for CASCADIA Cup is set to take place this weekend as the Seattle Sounders will host Northwest rival the Portland Timbers.
If either squad wants to have any hope of bring the Cup home from Vancouver this match is a must win as the Whitecaps have taken control of the CASCADIA table so far leading with 7 points. Vancouver won the Cup last season in dramatic fashion and look to be on pace to keep ahold of it. Below are the Current CASCADIA standings.
| | | |
| --- | --- | --- |
| Place | Team | Points |
| 1st | Vancouver Whitecaps | 7pts |
| 2nd | Seattle Sounders | 2pts |
| 3rd | Portland Timbers | 1pt |
We will take a look back at the first four 2014 CASCADIA matches-
| | | |
| --- | --- | --- |
| Match | Teams | Score |
| #1 | Portland - Seattle | 4-4 |
| #2 | Vancouver - Seattle | 2-2 |
| #3 | Portland - Vancouver | 3-4 |
| #4 | Vancouver - Seattle | 1-Nil |
This will be the second time in five days that the Sounders and Timbers square off including having played 120 minutes on Wednesday in the US Open Cup tournament. It should be interesting to see if fatigue plays a roll into the match as both squads put out a star filled line up.
One player who did not play however was US Men's National Team Captain Clint Dempsey who is expected to make his first start since coming back from Brazil. Last time he played against Portland he came away with a hat trick, he will be coming off nearly 2 weeks of rest and should be well charged and ready for this match.
Another player to keep an eye on is Obafemi Martins who missed last week with a tweaked hamstring, according to head coach Sigi Schmid though he has been progressing well and should be available for this Sunday's key match.
If both do start we'd expect this to be a high scoring match, and it will be interesting to see who Caleb Porter decides to put into his back four as Diego Chara will be missing this match due to Yellow Card accumulation.
Prediction for the Sounders Starting XI- Frei; Yedlin, Scott, Marshall, Evans; Neagle, Alonso, Pineda, Pappa; Martins, Dempsey