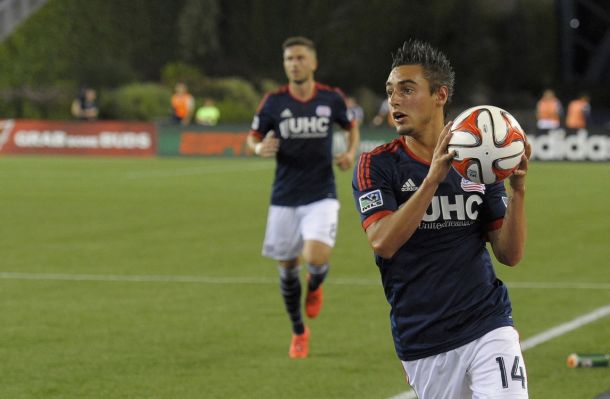 The New England Revolution play two matches this week against the LA Galaxy and FC Dallas. Positive results in both matches are absolutely crucial if the Revs want to move back into contention for first place in the Eastern Conference.
New England comes into this week of matches on a five game losing streak. An early goal from Quincy Amarikwa in the third minute was all the Chicago Fire needed to sink the Revs last week. The loss drops New England to fourth place in the Eastern Conference standings. Thankfully for the team, time is on their side and there is no shortage of talent on this Revolution squad.
For any team to find the proper balance between player chemistry and head coaching views is always hard. Thankfully, New England possess players and respect Head Coach Jay Heaps and would follow him into any MLS battle. Yes the Revs have lost five straight, but things like that happen during any given season. Diego Fagundez needs to rise to this occasion and lead his struggling team to victory in both matches this week.
Each opponent the Revolution face this week is struggling to gain positive results this season. The Galaxy won their last match 1-0, thanks to a wonder-goal from Gyasi Zardes. FCD is coming off a 2-1 win against the Philadelphia Union. Each team may be coming off a win, but the avenues for goal's to be scored is certainly wide open.
The Galaxy have struggled all season long and are finding their goals from young players. Dallas was the hottest team in MLS early, now, the squad is fourth in the Western Conference. New England certainly can win each match if and only if it puts the follow players on the field.
Shuttleworth
Farrell-Barnes-Soares-Tierney
Fagundez-Rowe-Nguyen-Kobayashi
Mullins-Bunbury
Coach Heaps needs to stop playing a one forward system and place his best players on the field at the same time. This line-up gives the Revolution so much power and attacking ability.
Time will tell what exact line-up coach Heaps uses tomorrow and Saturday, but the one listed above will give the Revs the best chance to capture six points.