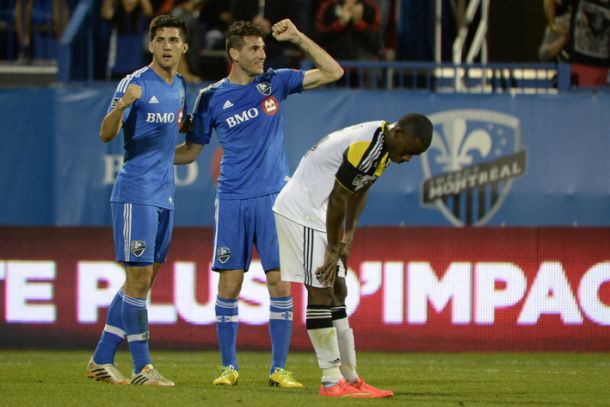 The Montreal Impact left the Columbus Crew speechless after their 2-0 defeat at Stade Saputo in Montreal, Quebec. Ignacio Piatti notched his brace to lift the home side and earn them a well-deserved win.
Basic back and forth football is the best way to describe the first half of the match. In the 32nd minute, Ignacio Piatti was warranted a yellow card. But quickly made up for it by opening the scoring in the 40th minute with a perfectly placed right-footed shot over goalkeeper Steve Clark. As the score ends the half at 1-0, Columbus Crew needed to make an adjustment, and make it fast.
As the second half began, Montreal played with more intensity and pace, which made them control the game. While Columbus played the same as the first half. The game neared its end, but not before goalkeeper Evan Bush for Montreal Impact was given a booking.
In the 90th minute, with stoppage time on the wrist look of the referee, Ignacio Piatti notched his second goal of the night, as he scored from a deflected ball. Columbus was down and eventually left the game without a point.
Columbus was also disappointed when Wil Trapp and Tony Tchani were given yellow cards. This means that both players will be unavailable for their upcoming match against Chivas USA on Sunday, September 7th in Columbus, Ohio.
Columbus Crew are now tied for third place in the Eastern Conference with Toronto FC, and New England Revolution. While Montreal Impact, still sit in last place (10th) in the East with 20 points. Montreal Impact will play their next game in Houston as they take on the Houston Dynamo on Saturday, September 6th.