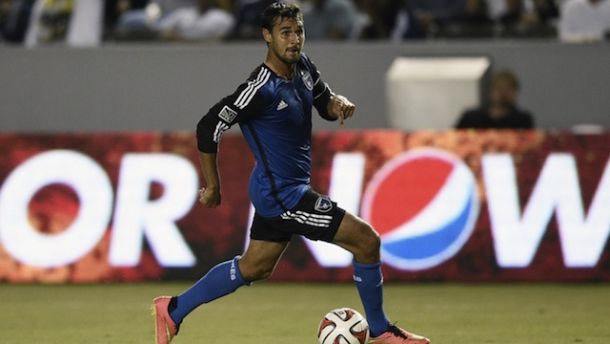 Western Conference rivals San Jose Earthquakes and Real Salt Lake squared it off on Saturday at San Jose's Buck Shaw Stadium. Both teams were looking for a win, as they had both lost their last matches. A win would have been especially good for San Jose, if they even want a chance at the playoffs.
Throughout the game, both teams made amazing plays that kept the fans pumped. In the 14th minute, the ball was thrown in to RSL's Kyle Beckerman. Beckerman got one touch on the ball before San Jose's Chris Wondolowski swooped in and took it from him. He passed it to Sam Cronin, who shot it past Nick Rimando for the first goal of the match.
Then in the 19th minute Wondolowski, with a pass from Tommy Thompson took a shot that just went wide of the goal.
15 minutes later, RSL's Olmes Garcia was fouled right in front of the goal. The foul, committed by Jordan Stewart, caused the ref to give RSL a penalty kick. RSL's Javier Morales took it, with a slight hesitation before the kick, fired the ball into the net while goalkeeper Jon Busch dove in the opposite direction.
Salt Lake attempted another shot in 42nd minute. Garcia passed it to Luke Mulholland but he was just barely wide.
Seconds later, Atiba Harris got his head on a ball but Nick Rimando just barely batted the ball out of the way, forced into a dive to reach it.
The next great play comes in the 53rd minute. Kyle Beckerman, noticing Busch slightly out of position, took a long shot, but it sailed just wide of the goal.
In the 70th minute, Stuart made a long cross to Thompson. Thompson took the shot, but the ball found itself in the arms of Nick Rimando.
A corner in the 93rd minute almost gave the Earthquakes the lead. Harris headed it toward the goal, but it proved no match for Nick Rimando.
San Jose received a costless kick in the 94th minute. This would be their last chance to score. The kick was too far, and the game ended.
While both teams really wanted a win, a draw isn't too bad. The point awarded to RSL puts them in third place in the Western Conference. The Earthquakes are sitting in 8th place in the conference, only two points ahead of Chivas USA.
RSL's next game is on September 6th against FC Dallas. RSL lost to FC Dallas in the game before this one. They need to take what they learned from that match and use it to their advantage in this next game. If they want to be considered for the Supporters' Shield, they need to get some more wins under their belt. San Jose's next game will be against the Portland Timbers on September 7th.