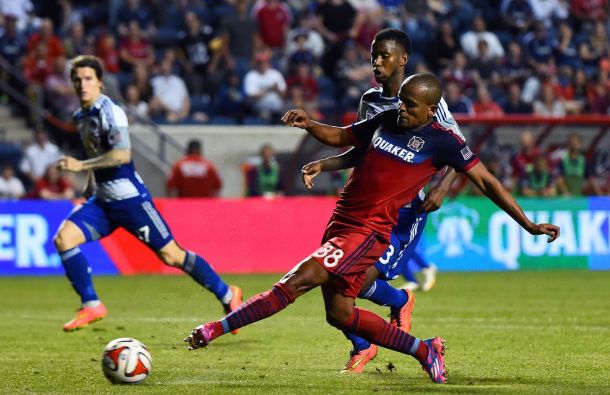 The Chicago Fire beat FC Dallas 1-0 on a header from injury-plagued striker Robert Earnshaw in the 83rd minute to stay in the playoff hunt. Chicago entered Saturday's action six points out of fifth place in the Eastern Conference, and now are only four points out of the final playoff spot with 29 points. The Columbus Crew currently occupy fifth place on goal difference with 33 points. The New England Revolution and Toronto FC are also on 33, but have superior goal differences to that of Columbus.
Earnshaw's goal marks the start of a very exciting trend for the Welshman. Saturday's match was only his second of the year after struggling with a long-term injury, but he netted his second goal in two games to give the Fire the win. Earnshaw came off the bench in last week's game, and provided a spark there when he scored the first equalizer in the 2-2 draw. If he can continue providing this high energy impact substitute role, Chicago might just have a chance at the postseason.
The result is a very disappointing one for FC Dallas, one of several hopefuls for this year's Supporters' Shield. They now sit in fourth place in the West on 42 points, six points behind Seattle Sounders who lead the race for the Shield. Dallas has been in fantastic form of late, but tonight Chicago was able to contain the speed on the counter of Dallas' in form strikers Fabian Castillo and Tesho Akindele.
This is a very impressive result for Chicago, and a bit of a shock at that. This is only the fifth win for the Fire this year, and the Texan side entered the game fresh off a hugely impressive 2-1 win over Real Salt Lake. It took standout performances from defenders Bakary Soumaré and Jeff Larentowicz to nullify the threat of Castillo and Akindele who torched Salt Lake in their last outing.
Next up, FC Dallas will head to Rio Tinto for a rematch will Real Salt Lake in an absolutely massive tie in the West. If Dallas are unable to emerge from Rio Tinto with points, their hopes for the Supporters Shield will be just about ended. Meanwhile, every match in the run-in to the playoffs is crucial now for Chicago, but their next three matches are especially critical. On Sunday, September 7th they travel to Boston for a battle with the New England Revolution before returning to Chicago to host Toronto FC on Saturday, September 13th and then hosting Eastern Conference table toppers DC United on Saturday, September 20th. If they are to make the playoffs, the Fire must emerge with five or six points from these next three games against playoff rivals.
Key Moments
16': SAVE! Lovel Palmer unleashes a cracker from 30 yards out that Raul Fernández does really well with to keep out of the net. The rebound nearly falls to Quincy Amarikwa, but Zach Loyd is there to clear for a corner.
40': SAVE! A poor giveaway from Watson gifts possession to Dallas on the halfway line, and a pass scything through the middle of the Chicago defense sees Castillo in behind. He runs stride-for-stride with Larentowicz, and manages to shimmy costless and get a shot off that is well kept out by Sean Johnson. Very good keeping after a sensational run.
52': OFF THE POST! A good overlapping run from Benitez puts him in position to send in a cross, and it's a good one. It finds Akindele, but he mishandles it. The rebound falls to Hollingshead from 10 yards out and he blasts a strike off the bar! Johnson completely beaten there. Hollingshead should be doing better.
71': SAVE! A scrum in defense ends with Hedges attempted clearance striking Amarikwa and running into no-man's land behind the defense. Fernández beats Amarikwa to the ball and clears away just before the striker can pounce.
83': GOAL! A corner is half cleared, and Larentowicz picks up the leftovers and curls in a fantastic ball from the left wing to pick out Earnshaw, whose flicked header settles into the side netting. No chance for the Dallas keeper.
90+1': SAVE! Another chance for Earnshaw. Dallas is forced to commit numbers forward in search of an equalizer, and the Welshman exploits the space in behind the defense. He finds himself in 1-on-1 with Fernández, who makes a terrific save. The striker really should be putting the game to bed there.
90+2': OVER THE BAR! Earnshaw with another wasted chance! Both Dallas center backs had pushed up, and a turnover saw Earnshaw in behind with no defender in their own half. He bears down on the keeper, but skies his shot. The substitute could have had a hat-trick!