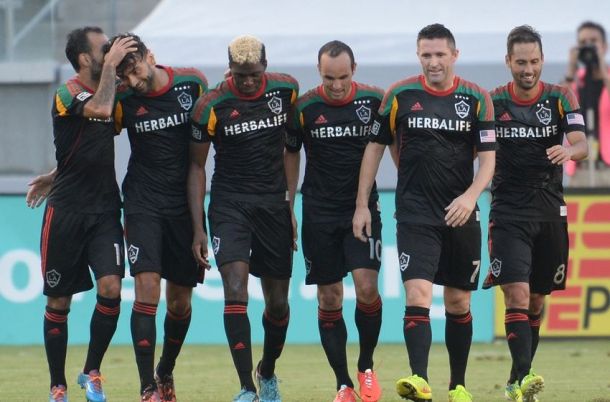 Sunday's match was hailed as the last SuperClasico, because Chivas USA is supposedly on the verge of a rebrand. Los Angeles Galaxy and Chivas share a rare "cross-hall" rivalry, because Chivas rents out the same stadium. Most Galaxy fans do not consider the series a real rivalry, but the players love to play for those bragging rights. This is because historically, Galaxy always comes out on top and Sunday night was no different.
Galaxy has truly hit their stride this season, and Chivas was another club to fall victim. During their last encounter, Chivas made off with a point, but this time around Galaxy refused to even allow them a goal. Instead they made a trio of beautiful golazos themselves.
Gyasi Zardes had been scoring a goal in almost every match, but when Alan Gordon joined the club he took a break. It did not last too long, because Zardes took no mercy on Chivas and scored two goals in the matchup. Zardes has truly been a powerful force for Galaxy and is even edging closer to Robbie Keane's goal tally of the season.
Of course, Keane couldn't let Zardes take all the glory. He skipped the last match and did not start against this match, but was substituted in. It was a great substitution, because Keane made a goal of his own. It was not only a night for these two strikers, but all the attacking players had their part in the wonderful outcome of the match.
To add insult to injury, Chivas finished the match without their star striker. A frustrated Erick Torres completed a nasty tackle against Galaxy midfielder Baggio Husidic, which landed Torres a straight red card. The Chivas star did not seem bothered, and he quickly took off to the locker room. It was just a bad night for Chivas.
Galaxy is very happy to have this victory in hand. They continue to edge closer to the Supporters' Shield and are currently one win away from being in the lead. Only D.C. United and Galaxy have won the shield four times, and this may be Galaxy's year to break the record and become the only club to have won five times.
As long as Galaxy continues forward in the same manner, this may be a perfect ending to Landon Donovan's epic career.