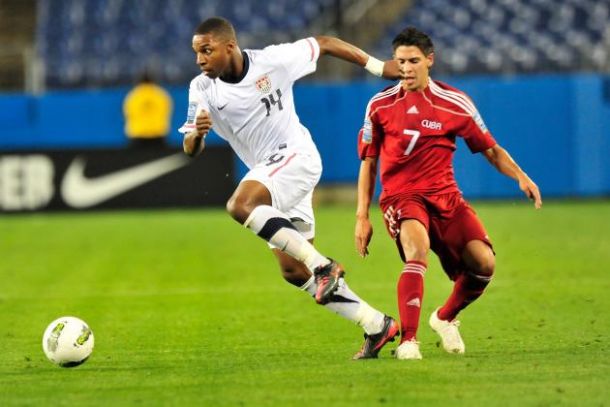 A new look USMNT side took on the Czech Republic in Prague on Wednesday, and will leave Europe with a greatly impressive 1-0 win. Heading into the game, little was expected of a team largely composed of second and third choice players, but they played a very good match. Let's take a look at five things we learned from this match...
There's a very good reason Joe Gyau was signed by Borussia Dortmund this summer
The 21-year-old attacker showed in flashes last season for Hoffenheim that he has what it takes to be a very good player. Even so, it was a surprise to see Dortmund buy him this summer and then a bigger surprise to see Jurgen Klopp call him in to the first team preseason training camp. Tonight we all saw why. Gyau combined effortlessly with Fabian Johnson, and was a constant danger all night. Do not be surprised to see him make a first team debut for Dortmund this season.
Fabian Johnson is a genuine star in the making
After the World Cup, there was rumored interest in the German-American fullback from Barcelona. While he did not make a switch to the Catalan side, Johnson did move from Hoffenheim to Borussia Monchengladbach. This season with a chance to showcase his talents at a top six club in the Bundesliga as well as at a club competing in the UEFA Europa League, don't be surprised to hear Johnson's name rumored for a big money transfer before too long.
Matt Besler and Omar Gonzalez are now the first choice central defenders
Although John Brooks often looked good tonight, Michael Orozco, Tim Ream, and Greg Garza often did not. With Geoff Cameron injured after being unable to engineer a transfer away from Stoke City where he looks to be facing a fight to get into the team, Gonzalez and Besler look set to be first choice for some time to come. 25 years ago it would have been unthinkable. Two former winners of the MLS Defender of the Year and coming off of great World Cup campaigns, these two MLS stalwarts look set to anchor the defense for the foreseeable future.
It is a good thing that Julian Green is going on loan
For all of the undoubted talent and skill the 19-year-old possesses, he is still very raw. He is prone to making the mistakes of a young player: giving the ball away easily because you don't know when to pass. There were several occasions tonight where Green gave the ball away very easily either because he held onto it too long or passed it at the wrong time. This is not a knock on him; no it just means he needs time to mature. Going to another Bundesliga side for a year to get games and continue to further his development seems to be just what the doctor ordered.
The American Outlaws are great
This writer saw a photo on their Instagram account before the game started showing a gathering of Outlaws at a Prague area drinking establishment before heading to the arena. Then there were the occasional "U-S-A! U-S-A! U-S-A!" chants breaking out which were audible on the television broadcast. American soccer fans travelled more than 5,000 miles to see their side take on the Czech Republic in a meaningless friendly. That is truly remarkable, and it's incredible to see how far the game in this country has come.