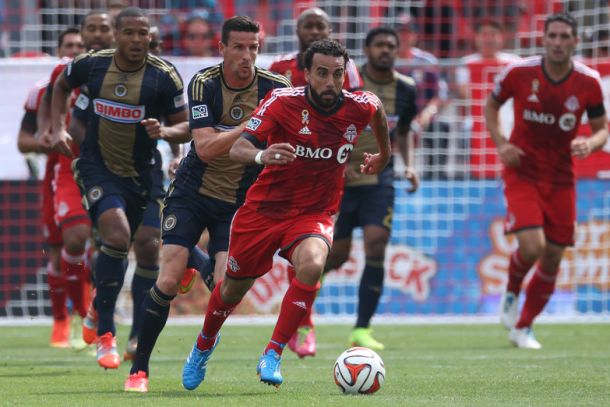 Toronto FC Head Coach Greg Vanney knew he had a serious challenge after replacing Ryan Nelsen. TFC, the team that had so many expectations after a great start had hit a wall, and it would take much more than a coaching change to bring things back to where they were earlier this year.
Vanney was optimistic and at the same time, even the most positive leader cannot solve a defensive crisis where the two top defenders in Steven Caldwell and Justin Morrow remain sidelined with injuries while the very young backline are struggling to communicate with each other, learning by trial and error. In addition to their troubles, the one veteran back liner Bradley Orr is still battling for full fitness.
This was evidenced within eight minutes of the kickoff by a strong chip from Sheanon Williams to a surging Conor Casey who slipped through the defense with a perfect header to give the Philadelphia Union an early lead. Casey, an original Toronto FC player, also scored in the Union 1-0 victory last Wednesday joined an ever-growing list of ex-TFC players who has come back to Toronto to haunt the former club.
Another former Red, Maurice Edu, on loan from Stoke City who normally plays midfield was shifted to central defender in the absence of Carlos Valdes, away on international duty for Colombia. Edu read the play perfectly and in the first half made it very difficult for TFC to establish any momentum inside the box.
On the other side of the pitch, Sebastien Le Toux took a bullet of a shot that was saved by a diving Joe Bendik. It was Bendik who kept Toronto in the match, and could hardly be blamed by the continuous breakdowns on the backline.
Before the conclusion of the half another clever assist from Williams was headed in by a very open Andrew Wenger to bring BMO Field into a stunned silence. Truly, the only noise to be heard was from the 25-50 travelling Philadelphia Union fans cheering wildly for their streaking club.
In the 2nd half, Vanney pushed his team to finally penetrate and bring some life before the season slips away from them. Mark Bloom's shot early in the half rang off the post and TFC continued to attack. Zack MacMath, filling in for regular keeper Rais M'Bolhi on duty with Algeria, stopped a bullet from outside the box by Michael Bradley.
Jackson in for Dwayne De Rosario beamed a shot off the crossbar and probably made Vanney wonder what it will take for him to finally see a goal from his team after Bradley hit the corner of the woodwork towards the end of the match.
After the game, Vanney stated that "we have to be more locked on guys" and "fight for the ball". He also stated the team has to "get back to basics" and how the team is missing the "little things" and will set a clear pathway for the final eight matches.
Unlike many young coaches dropped into the fire, Vanney showed much composure in seeing what he needs from his team and understands that everything has to "tighten up" and "show clarity" and with a week of training can build confidence. He also looks forward to Jermain Defoe coming back to rejoining the squad on the 20th and is ready for him to make an impact and believes that Jonathan Osorio should be available for game duty by next week as TFC take on Chicago Fire at Toyota Park.
Recently, Philadelphia head coach Jim Curtin has stated that "good teams hit their stride at the right time". With Argentine DP Cristian Maidana leading a strong charge in the midfield, and the club moving with precision and strong intent this quote rang true today.
However Curtin remains humble in stating that the team played better last Wednesday and that "Toronto are a very good team who are missing some pieces." Curtin knows his club will face a very experienced club at home against the New York Red Bulls and need to continue the drive to place his team into the MLS Playoffs.