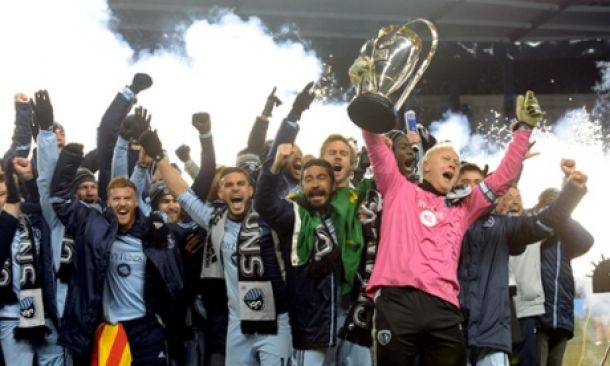 The dates for the 2014 MLS Cup Playoffs were revealed on Tuesday by Major League Soccer in a press release. The playoffs begin with the Wild-Card knockout matches to take place on October 29th and 30th and will finish with the MLS Cup Final to be held on Sunday, December 7th.
One of the biggest changes that Major League Soccer implemented was that they scheduled the break between the Conference Semifinals and Conference Championship series around the November international break. That means that the Conference Championship round will not begin until after the FIFA International Window between November 14th and 18th. Last season, MLS rushed in the 1st leg of the Conference Championship series before the November window leaving an awkward, at best, two week gap between the legs in the series.
The playoff format has not changed remaining with 10 teams (Five from each conference) qualifying for the post-season. The 4th and 5th placed team take part in a one-off knockout match hosted by the 4th place club with the winner advancing into the Conference Semifinals to play against the regular season Conference Champion. Both the Conference Semifinals and Finals are two-legged series to take place in each stadium of the represented teams. The winner is decided by who scores more goals over the course of the two legs.
Another fun feature that Major League Soccer has added for this postseason is the away-goals rule. The away-goals rule is designed to encourage the teams that are playing away from home to attack rather than to sit back and defend. It also will drastically reduce the number of series that can go forward into extra time. Essentially the scoreline would need to be exact in both legs for extra time to occur after the second leg. For example, if Team A hosted Team B in the first leg of an aggregate series with the final result finishing 2-1 to Team A and then in the second leg Team B were to win 1-0, Team B would advance on the away goals rule despite the series finishing 2-2 on aggregate.
Here is a look at the dates for the 2014 MLS Cup Playoffs:
Conference Knockout Round (#4 vs. #5)
Wednesday October 29th or Thursday October 30th
Conference Semifinals (#1 vs. KO Round Winner; #2 vs. #3)
Leg 1: Saturday November 1st or Sunday November 2nd
Leg 2: Saturday November 8th or Sunday November 9th
Conference Championships (Semifinal Round Winners)
Leg 1: Saturday November 22nd or Sunday November 23rd
Leg 2: Saturday November 29th or Sunday November 30th
MLS Cup Final (Conference Championship Winners, Hosted by Club with better overall record)
Final: Sunday, December 7th, 3:00 pm ET, ESPN, UniMas
Stay tuned with VAVEL USA for all of your Major League Soccer coverage between now and the MLS Cup Final.