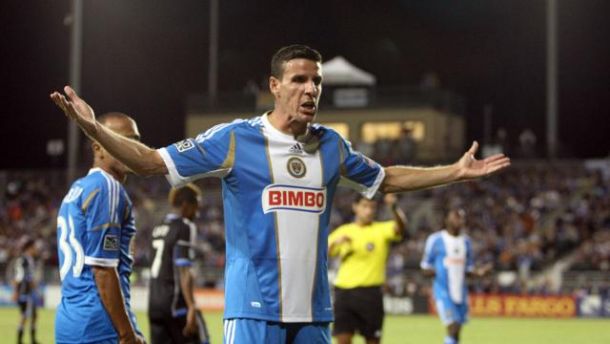 Philadelphia and Columbus square off on Saturday night at PPL Park for the second time this season, only two weeks before they meet again at Crew Stadium for the final game of the regular season. Whether that game will have significance or whether either side will make the playoffs likely depends on the result in this match.
The two sides met for the first time this season on March 22nd at Crew Stadium where a brace from Columbus' Bernardo Añor was enough to give the Crew the 2-1 victory.
As it stands, Philadelphia lie in 8th place on 39 points with three games to go, four points away from Columbus on 43 points who occupy the 5th and final playoff spot in the Eastern Conference.
For Philadelphia, the game is a must win. They may have to win their other two remaining matches to even stand a chance of making the playoffs. With those games being a visit from current MLS Cup champions Sporting Kansas City and a trip to Saturday's opponents, the Columbus Crew, making the idea of playoff soccer this season look like a big ask.
As for Columbus, a win against Philadelphia would temporarily place them above New York who take on 6th place Toronto FC, also on Saturday night. Should both New York and Columbus win, there would be a six-point gap between nearest rival, Toronto with just two games to go.
Zac MacMath will return to his spot between the sticks for the Union, as Philadelphia will be without goalkeeper Rais M'Bohli who is on national team duty with Algeria. Sheanon Williams, Connor Casey, and Sebastian Le Toux all look set to return from injury; however, Ethan White and Christian Maidana are doubtful, White is suffering from back spasms while Maidana has flu like symptoms. The Union struggled in the absence of Casey and Le Toux.
For Columbus, Federico Higuain and Waylon Francis miss out due to suspension. Higuain is a particularly big loss, with the Argentinian leading the team in both goals and assists this season (eleven goals, six assists.) Francis has also been vital to the Crew's success this season, contributing a tied teaming leading six assists.
On the offensive side of the ball, the key players for Philadelphia are likely to be the usual culprits, leading scorer Sebastian Le Toux and seconding leading scorer Connor Casey. Look for the two to link up as they have done all season to try and get at a Columbus defense that has been one of the best in MLS this season. Defensively, the return of Zac MacMath could prove to be a big boost for Philadelphia as new signing Rais M'Bohli has looked poor in his few starts this season.
Columbus meanwhile will look for Añor to recreate his scoring touch from their previous meeting, as well as striker Ethan Finlay who's got three goals in his last five games. Defensively, goalkeeper Steve Clark and Captain Michael Parkhurst have been stellar this season. Saturday's game could see the debut of veteran Emanuel Pogatetz who add another layer of protective to an already solid defense and may fill the void left by the suspended Francis, whether the versatile Austrian plays in central defense or at left back.
Crew manager Greg Berhalter also openly discussed the possibility of rookie Ben Sweat replacing the suspended Francis. If this is the case, look for Le Toux and Wenger to exploit his lack of experience.
The game promises to be an exciting affair and will kick off at 7:00pm, EST, with a live, play by play event beginning here on Vavel USA at 5:00pm EST.