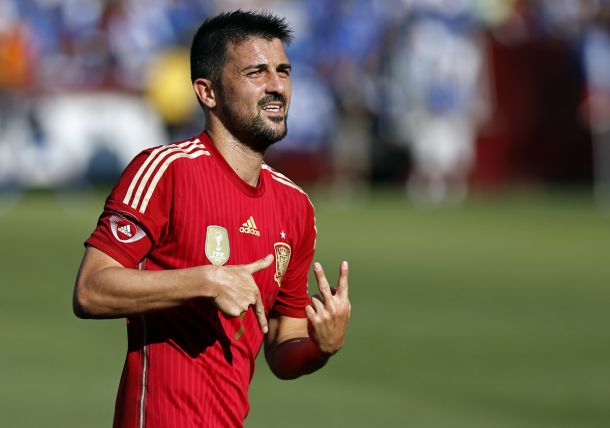 Melbourne City striker David Villa will return to parent club New York City FC after the club's fourth match in a home clash with Adelaide United, the A-League side has confirmed. Villa is expected to be a part of NYCFC promotion next month in New York.
Although Villa will return to New York in November, Melbourne City hope to have him back in the first week of December and keep him until the Melbourne Derby during the last week of December. Negotiations between NYCFC and Melbourne City will determine if the Spaniard will return to the Aussie side for the end of the year. Villa is expected back in New York in January when NYCFC will start their pre-season training.
Melbourne City hope he returns, as attendance skyrocketed for the club. If he shall decide to train in New York and not return to Australia, most of the new supporters would be very disappointed.
According to A-League guest player rules Villa can suit up for Melbourne City up to ten times this season, although it does not seem he will reach near that number.
Melbourne City coach John van`t Schip is confident that Villa will return to wear the Melbourne City shirt again.
"I'm confident that he's happy here and there will be some talks in the coming days."
"That's something between the clubs," van`t Schip said.
Villa is expected to be apart of NYCFC media and marketing relations during the month of November. The New York club will unveil their kits in November and expect Villa to help promote the cub during its marketing blitz. Villa will also help his family transition to the Big Apple from Madrid.
A Melbourne City spokesmen spoke on the matter;
"The precise number of A-League games that David will play will be determined by the best interests of the player and his now New York-based family and the prioritization of the requirements of both New York City FC and Melbourne City FC."
"We would obviously want a player of his caliber to represent the club in as many games of the guest allowance as possible between now and the commencement of MLS pre-season training in January," the Melbourne City spokesmen said.