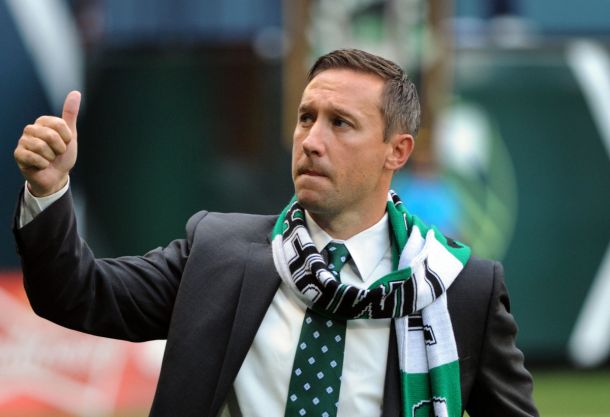 After just four short hours, the Portland Timbers' roster looks quite different from last year. Following moves over the weekend which saw Michael Harrington get traded to the Colorado Rapids, and Nat Borchers sign with the Timbers, Portland added another defender, a goalkeeper, and a forward.
First, the Timbers announced the signing of Ghanaian international goalkeeper, Adam Larsen-Kwarasey. Kwarasey, 26, arrives from Norwegian club Strømsgodset. Kwarasey started with Strømsgodset in 2003, and helped them claim the Tippeligaen championship in 2013. That same year he was named Tippeligaen goalkeeper of the year. Over his years with Strømsgodset, Kwarasey has featured in the Europa League and Champions League, as well as starting against the USA in the 2014 World Cup.
The second signing announced by the Timbers was 22-year-old Colombian, Dairon Asprilla. Asprilla played formerly for Colombian Primera División side Alianza Petrolera. Asprilla, while still only 22, has logged numerous minutes for Colombian clubs. Along with 71 appearances for Alianza Petrolera, Asprilla has also logged minutes for Colombian powerhouse Atlético Nacional.
The final player announcement made by the Portland Timbers was the addition of Brazilian defender Jeanderson Salvador Pereira. The attack-minded defender played most of his matches in 2014 with Cruzeiro de Porto Alegre, but signed with Santa Rita in July; both clubs play in lower divisions of Brazilian soccer. The 23-year-old will most likely occupy the left back position for the Timbers, but it's yet to be seen if he will gain an immediate starting spot.
All three signings will occupy international slots on the Portland roster.
Following all of the signings around MLS, teams were required to submit their list of protected players for the upcoming expansion draft featuring New York City FC and Orlando City SC. The following list of players were left unprotected by the Portland Timbers.
Kalif Alhassan
Gaston Fernandez
Jack Jewsbury
Pa Kah
Rauwshan McKenzie
Danny O'Rourke
Norberto Paparatto
Donovan Ricketts
Jorge Villafana
George Fochive
Bryan Gallego
Jake Gleeson
Michael Nanchoff
Taylor Peay
Andrew Weber
This leaves the protected players as follows...
Fanendo Adi
Nat Borchers
Diego Chara
Will Johnson
Darlington Nagbe
Alvas Powell
Liam Ridgewell
Maximiliano Urruti
Diego Valeri
Rodney Wallace
Ben Zemanski
Homegrown and Generation Adidas players are automatically protected, leaving Steven Evans and Ntokozo Tshuma exempt from the expansion draft.
The most surprising names on the unprotected list are Gaston Fernandez, and Jorge Villafana. Gaston Fernandez was brought in by the Timbers last season and played the role of "super sub", finishing the season with seven goals. With Diego Valeri due to be out for a good portion of the beginning of the 2015 season, Fernandez is first in line to fill Valeri's position. Fernandez is out of contract, and is currently under negotiations with the team.
Jorge Villafana was arguably the best defender for Portland during the 2014 season, and fits perfectly into Caleb Porter's attack-minded wingbacks system. Villafana finished third amongst defenders in minutes played, behind Michael Harrington (traded to Colorado Rapids), and Pa Kah, who's option on his contract was declined by the team. Villafana is a young talent that is prime for picking for both NYCFC and OCSC.