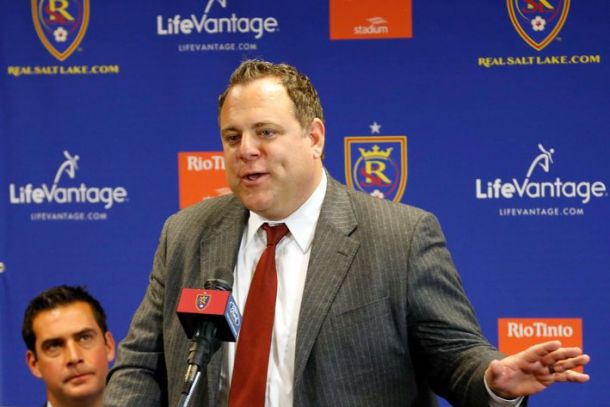 Taylor Twellman of ESPN first broke the news about the big signing coming to Seattle ahead of the 2015 MLS Season. It is not a designated player but it is a huge pick-up in the front office. Real Salt Lake general manager Garth Lagerwey is rumored to be joining the front office of Seattle Sounders FC, likely in the team president role currently being handled by part-owner Adrian Hanauer.
Lagerway said in a text to Chris Kamrani of the Salt Lake Tribune that, "I have no written offers from anyone. I'm under contract to RSL through December 31." He was offered a new contract from RSL owner Dell Loy Hansen but decided that it was time to move on according to Sports Illustrated.
To say that his time at Real Salt Lake was successful would be an understatement. In his seven-plus years with the club they won the 2009 MLS Cup Final over the LA Galaxy in a penalty shootout and won two conference championships. They also just qualified for the postseason for the seventh consecutive season and reached the finals of the CONCACAF Champions League in 2011. To this point, that is the furthest that any MLS club has reached in the international competition.
It is very interesting that Seattle would be Lagerway's destination. He had been linked with moves to either Toronto FC or even with New York City FC to reunite with former RSL head man Jason Kreis. For now, this is still a rumor but it likely has legs if it involves Major League Soccer and Taylor Twellman reports about it.
We will keep you posted with any more developments on this story as they break.